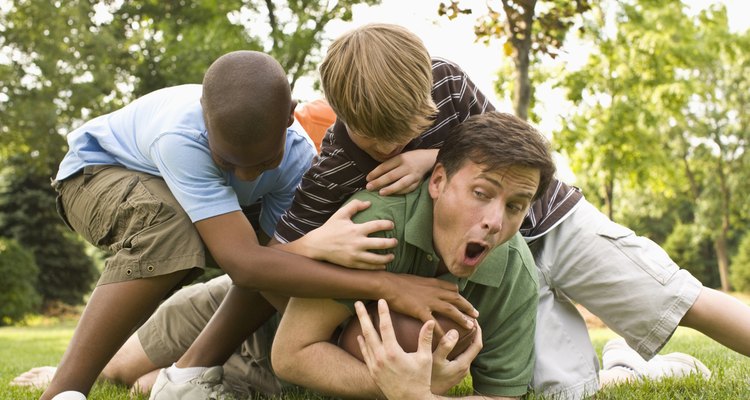 Comstock Images/Comstock/Getty Images
As you navigate through your relationship with a single mother, the inevitable milestone will be to meet and develop a relationship with her children. Your girlfriend's children may be apprehensive about building a relationship with you or they may look forward to getting to know the man with whom their mother enjoys spending time. Prepare yourself for all possible reactions from the children in this unique dating experience.
Take it Slow
Once you enter into a serious relationship with a single mother, think of ways to get to know her children. "Psychology Today" contributor, Kristi Pikiewicz, Ph.D., suggests avoiding attempting to get to know your girlfriend's children until you both agree to take part in a committed, exclusive relationship. Once you establish a serious relationship, proceed with caution, because you can't gauge her children's reaction in advance. Let your girlfriend mention you to her children before meeting her kids formally. After you meet her kids, participate in some group activities , with your girlfriend present.
Share Interests
When you participate in group activities with your girlfriend's kids, notice the activities that interest her children. More importantly, learn about their school activities, their extracurricular involvement and what struggles they face, but do not use this information to further your relationship with your girlfriend. Develop genuine, authentic relationships with her kids, because that is how she will evaluate you. If her children love roller-skating, go to a rink. In her column on parent dating in "News for Parents," Lisa Crohn notes this takes the focus from trying to build a relationship to focusing on enjoying the activity itself. This may help the children not to not feel pressured into developing a relationship with you; if they enjoy themselves in your presence, they may not even realize they are developing a relationship with you.
Encourage the Kids
Learning about the interests that your girlfriend's children have is one step you can take toward getting to know them. However, you can develop the relationship by encouraging them to find new interests. You can begin this process by learning about their current interests and suggesting similar or related activities for them to try. While encouraging them, offer your support. If they're interested in a new sport, offer to attend the tryout with them. They'll appreciate the extra support, and may be more interested in developing a relationship.
Show a Positive Demeanor
Your smile can help build a strong relationship with your girlfriend's children. When you are around your girlfriend's children greet them with a smile and maintain enthusiastic. Equally as important is maintaining eye contact with her children. Be sure to listen to her children, as well. No matter the age or gender of your girlfriend's children, show them that you care about them will help you connect with them.
References
Writer Bio
Ashlea Campbell writes about families, relationships and health-related issues. In addition to writing professionally, she teaches writing courses at Collin College in Plano, Texas. She holds a Masters degree in English education from the University of Kansas.
Photo Credits
Comstock Images/Comstock/Getty Images