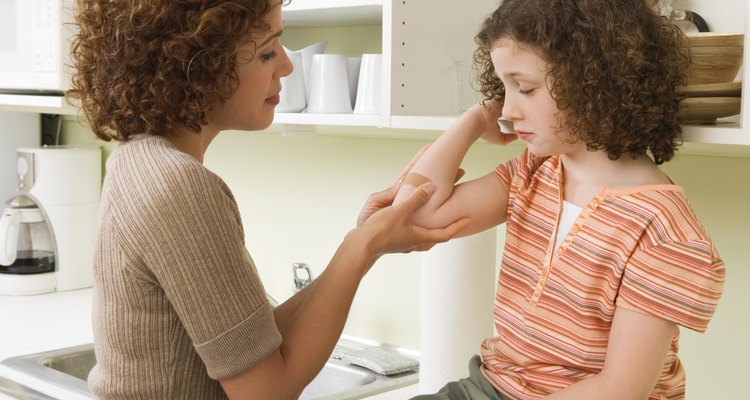 Jupiterimages/Creatas/Getty Images
Dating a woman who has children from a previous relationship can seem intimidating at first. If you aren't used to dating single moms or spending time with other people's kids, you may wonder how to handle it. If you meet a single mom you really like and want to succeed with her and her kids, it's important to keep a few things in mind.
Take Your Time
It's usually better to postpone meeting a single mom's kids until you've become serious with her. This reduces the risk of becoming attached to the kids (or they to you) if the relationship doesn't work out. When you do meet her kids, it's okay if they don't warm up to you right away. Take your time getting to know them. Go on some "dates" that include the kids. Ask them about their favorite movies, toys, or ice cream flavors. Kids enjoy talking about the things that matter most to them, and taking a genuine interest in them can go a long way to earning their trust.
Examine Her Parenting Style
Every single mom has her own parenting style. For example, some moms make sure their kids know who's boss, while others are far more lenient. Some dote on their children and seem to live for them, others are more independent and expect their kids to be, too. Some parenting styles will grate on you and create conflict in your relationship. Thus, it's far easier to date a single mom and accept her child if you feel comfortable with how she handles her children.
Every Child is Different
Just as there are all kinds of single moms, there are all kinds of children. A 2-year-old boy differs from an 11-year-old girl or a 19-year-old boy. Younger children require much more attention, but they can also be sweeter and more accepting of Mom's new boyfriend. Some kids are quiet, while others are energetic. Some are "easy" kids; others are a handful. You may feel more comfortable with certain kinds of kids, and it's easier to accept a single mom's children when you like and feel comfortable with them. If you don't feel comfortable with her child, give it some time to see if things improve; if they don't, she may not be the woman for you.
You Don't Have To Be Dad
Often, when a man is intimidated by the prospect of dating a single mom, it's because he's afraid he'll be expected to step into the role of the child's father. This can be a scary prospect if you aren't yet ready for fatherhood. However, when you date a single mom, the kids already have a father. It's his job is to maintain the fatherly role. Even in those cases where he isn't around, he never ceases being their father. Focus instead on being a friend and role model, as you would for your nieces and nephews.
References
Writer Bio
Christie Hartman is a psychologist and author of five dating and relationship books. She has written for several online publications and has been published in numerous scientific journals in the areas of mental health and addiction. Christie earned her master's and doctoral degrees from the University of Colorado.
Photo Credits
Jupiterimages/Creatas/Getty Images