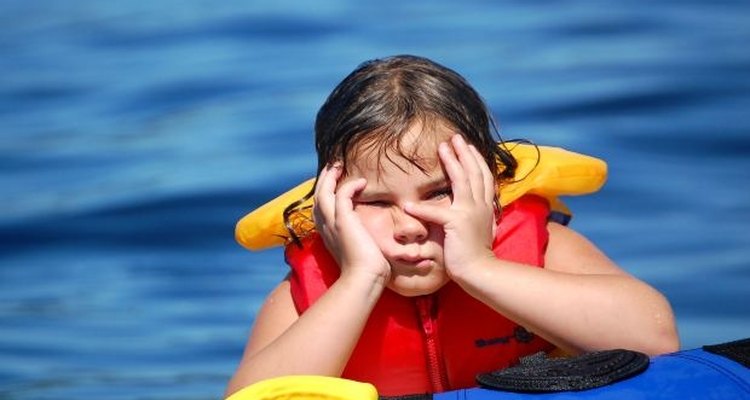 The good news is that you've found a woman you think you'd like to spend the rest of your life with. The potential downside, however, is that your new romance is a package deal that includes the offspring of her prior relationship. Whether they decide you're the coolest dude on the planet or punctuate every exchange with "You're not my real dad" depends on your confidence in yourself and your readiness for parenthood.
Cautious Courtship
Depending on the age and maturity of the child, the upheaval created by Mom and Dad no longer living under the same roof doesn't need to be complicated by premature exposure to a succession of prospective replacements. Whether you're the first man she has dated since her divorce or one of several, there's no reason to rush into a meet and greet with the kidlets. For one thing, they need time to get used to the idea that their mother has her own needs for companionship. They need to get comfortable with the fact that she's not going to bring someone into their lives who will do them harm or ship them off to a boarding school in Brazil. They also need to appreciate that the inclusion of a new male figure in their lifestyle doesn't diminish the importance of their real dad. Early dates with your new love should be breakfasts or lunches when the kids are in school, or evening dates where the children have already been taken to a friend's house or the babysitter's before you arrive.
Understanding Young Minds
If you haven't spent that much time around children and young adults, you've got a lot of homework ahead of you. Not only is it important for you to understand their various developmental stages in order to know what makes them tick but also to figure out what kinds of things really interest them insofar as hobbies, books, movies, pets, games, sports and foods. Their mother can obviously fill in many of these blanks for you but it wouldn't hurt to find a parent or teacher who is familiar with this age group and can give you advice and suggestions. When you finally meet your sweetheart's offspring, engage them at whatever level they seem to feel most comfortable. Ask them about school and what they're learning, what they're reading or what they thought of a particular TV show or kid-centric movie without coming across as trying too hard. Kids can sense when someone is being pushy to make a good impression and this often has the opposite effect. Create opportunities to make something together, play games and demonstrate that you're a good listener who respects whatever they have to say. Neither preach to them nor bore them to death with "when I was your age" stories. Kids of any age live in the moment. Make those moments memorable.
Friend First, Father Later
Rushing into a parental role too quickly can have detrimental effects on a child's self-esteem and sense of security, especially if your relationship with the mother doesn't last. Trust takes time to build and children are no exception to this rule. Long before they start to envision you as a permanent fixture, they need to observe your actions and see how you relate to them as individuals and not just attachments to their mother. Whatever feelings you may harbor toward the father, it's crucial that you embrace neutrality in any discussions about him with the children. This objectivity will demonstrate that his actions and character are not as important to you as the feelings you have toward them and their mother. It's likewise critical that you practice the art of sharing and accept that you're not always going to be invited to join them in outings and family activities. By being a positive role model, a responsible helpmate and a fun companion, you're fostering a friendship that is separate and distinct from your love for their mom.
Respecting Boundaries
Whether or not you agree with your sweetheart's parenting skills, the time to correct or contest her actions is not in front of the children. This undermines her authority and also confuses the children as to which one of you they should be listening to. If your advice is solicited, you're certainly free to give it, but these discussions--as well as the establishment of ground rules for discipline--should take place privately. Respect for existing boundaries further extends to any indulgences on your part such as gifts, money, treats or promises of trips to Disneyland. While she may appreciate your ability and generosity to do things for her kids that are hard on a single mom's salary, she deserves the respect of being asked permission. It's also advisable to exercise good judgment and sensitivity on the issue of sleeping together and the message that this communicates to children and teens.
References
"Sex and the Single Mom: The Essential Guide to Dating, Mating, and Relating"; Sharon McKenna; 2006
Resources
Writer Bio
Ghostwriter and film consultant Christina Hamlett has written professionally since 1970. Her credits include many books, plays, optioned features, articles and interviews. Publishers include HarperCollins, Michael Wiese Productions, "PLAYS," "Writer's Digest" and "The Writer." She holds a B.A. in communications (emphasis on audience analysis and message design) from California State University, Sacramento. She also travels extensively and is a gourmet chef.