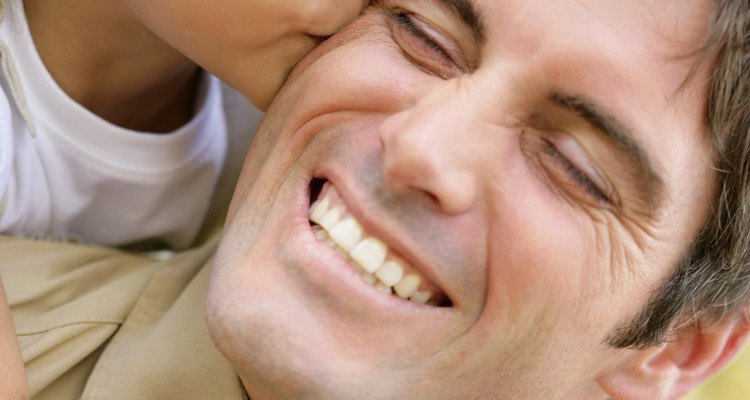 Goodshoot/Goodshoot/Getty Images
Every relationship reaches a stage when it's time to share personal information that doesn't come up in casual conversation. While you may dread your girlfriend's reaction, failing to mention that you have a child, who is a huge part of your life whether or not you maintain contact, will do more harm than good. Knowing how to break the news will make it easier for both of you.
Step 1
Tell your girlfriend about your child at the earliest possible opportunity. Keeping this a secret is not conducive to a healthy, trusting relationship, warns therapist Daniel J. Tomasulog, Ph.D. Give your girlfriend the facts but avoid going into great detail about your history with your child's mother at this stage. Show your girlfriend a photograph and tell her how important the child is to you. If you aren't involved in your child's life, make this clear. Give her time to get used to your revelation.
Step 2
Break the news of your child to your girlfriend gently if you have been together for some time. Tell her in person, in a private place and at a time you won't be disturbed. Explain that you wanted to give your relationship time to develop before revealing that you have a child.
Step 3
Prepare yourself for questions about your child and your relationship with your child's mother. Be completely honest with your girlfriend. Bending the truth or omitting important details about your past at this stage will only cause pain and embarrassment in the future. Be patient with your girlfriend. It is natural for her to be curious about this part of your life and want to know every detail.
References
Resources
Tips
Take it one step at a time. Don't think about introducing your girlfriend to your child until she is comfortable with the idea and you are sure the relationship is going to be a serious one. Put your child's needs first, advises "The Telegraph" agony aunt Petra Boynton.
Writer Bio
C. Giles is a writer with an MA (Hons) in English literature and a post-graduate diploma in law. Her work has been published in several publications, both online and offline, including "The Herald," "The Big Issue" and "Daily Record."
Photo Credits
Goodshoot/Goodshoot/Getty Images