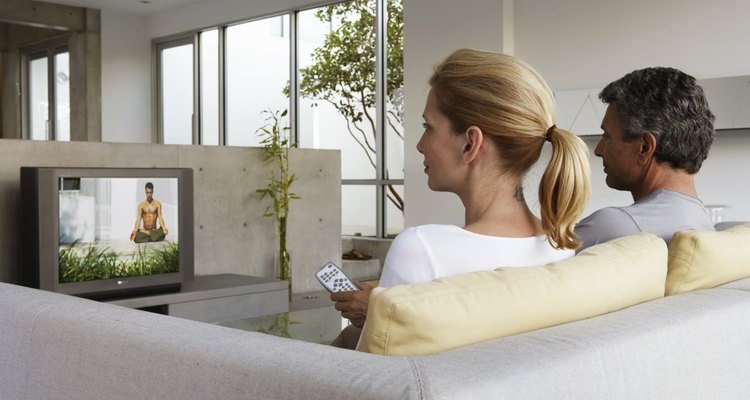 Kraig Scarbinsky/Digital Vision/Getty Images
When you prefer a quiet night at home to the thumping atmosphere of the bar scene, meeting potential girlfriends may seem next to impossible. However, with a little help from modern technology and your friends, you should be able to meet a girl whose lifestyle is compatible with your own.
Online Dating
With a computer and Internet connection, you have access to one of the dating venues most loved by homebodies. Dating sites afford you the chance to make the acquaintance of girls with compatible personalities whom you otherwise wouldn't have the chance to meet in your daily routine. This can be convenient because you don't have to mingle with crowds, and you can save energy by skipping profiles of party-animals if you prefer someone who, like you, enjoys a quiet home life. Always keep safety precautions in mind when pursuing a romance with Internet origins. Even if you strongly prefer dinner-at-home dates, your first meeting with someone you have met online should be conducted in a public venue.
Friendly Set-Up
For someone who doesn't dig the social scene, having friends who do can help when it comes to meeting girl. If you have an outgoing and trustworthy friend well-connected in the singles world, allow that person to play matchmaker. If you're hoping to find a fellow homebody, be sure to specify this to your friend, as those your new matchmaker meets on the dance floor may not make the best candidates. Be candid about the qualities you're looking for to avoid blind-date discomfort.
Right Place, Right Time
In the "Psychology Today" article "Oil and Vinegar: Why Opposites Don't Attract," Kristine Keller, who holds a master's in psychology, suggests that those with like personalities are drawn together because having a similar mate affirms your worldview and values. While it may seem counterintuitive to search in public for another homebody, there are places, such as the bookstore, where you're more likely to meet a girl who enjoys low-key dates and staying in. The next time you are out shopping for a suspense novel to read in the comfort of your home, keep your eyes open for girls who may be doing the same.
Game Night
Yet another way to get acquainted with new girls without leaving your comfort zone is to institute a game night. Select a variety of card and board games, whip up some tasty appetizers and welcome over friends. Specify to friends that the only game-night condition is that they each bring along someone outside of the group. Accordingly, you can meet more people who already meet the qualification of being able to have a fun time without hitting up the bar scene.
References
Writer Bio
Jae Kemp has been writing and editing professionally since 2010. In addition to reviewing novels, memoirs and psychology/self-help books for major review services, Kemp has served as a copywriter, commercial and creative editor, and staff article writer.
Photo Credits
Kraig Scarbinsky/Digital Vision/Getty Images