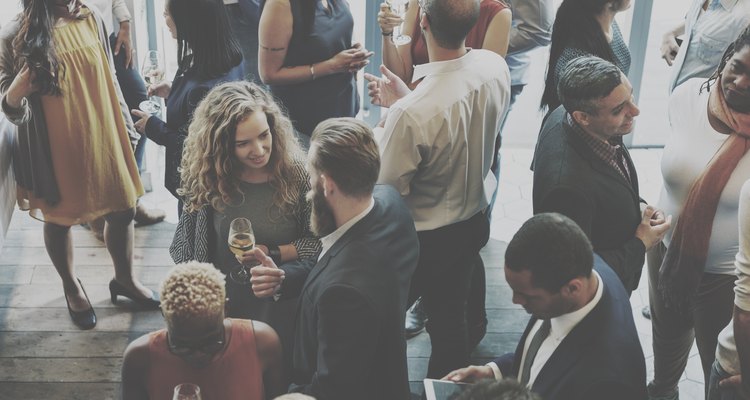 Rawpixel/iStock/GettyImages
Looking for Friends in All the Right Places
Good old Facebook. Always there when you want to share pictures or vent a little or just let people know what kind of day you're having. Whether checking in with your far-flung family or your friends upstate, Facebook is a pretty reliable way of keeping track of the people you care about. But what about people you haven't yet met? It's a bit awkward to "friend" someone you don't know, but you can easily find local groups that have their own Facebook pages. Use the trusty Facebook search engine to track down events, groups and activities by entering your location and/or keywords. Investigate further by "following" or "liking" pages and visiting websites, and before you know it, you're on the way to new adventures right there in your own neighborhood. But Facebook isn't the only game in town.
App-solutely Fabulous
Looking to meet new people? There's an app for that. In fact, you can find apps (many of them free) for meeting interesting people of all sorts. For example, are you a foodie? Take a look at BonAppetour, an app "community for foodies, by foodies" that can connect you with authentic home dining experiences in a number of cities. You can even apply to host a dining event yourself via this appetizing app. Chatous connects people with common interests. This app might be a safe first step for the wary, as it claims to protect its users' privacy by rendering accounts unsearchable. You can also change your display name at any time. In addition, this app is tagged as teen-friendly. However, be aware that it goes both ways; you won't be able to search anyone else's identity either.
And that's just the beginning of a dizzying array of apps out there for you to explore. A word to the wise: When researching apps, take note of ratings and read reviews thoughtfully. Look to reliable sources for suggestions. See to it that the app you're researching is geared to your own needs before you take any further steps.
Taking a Chance on Love Apps
Needless to say (but saying it anyway), everyone looking for love, romance or even a lunch date has to take every proffered profile with several grains of salt. Fakes and scams and catfishing schemes are part of the reality of the cyber-landscape, so stay vigilant. Remember that it's really OK to be cautious about diving into the deep end of the dating pool. Get references, arrange to meet only in public places, take your smartphone along so you can reach out to a friend if you need to. Or, if you choose, you can meet only in larger groups. Use your own good common sense, and you should be all right.
"Some enchanted evening, you may see a stranger...." Or, some enchanted afternoon, you might have a nice chat with someone you bump into in line at a hot dog stand. Happn happens to be a localized dating app that puts you in touch with folks with whom you've actually crossed paths during your day's activities. A fleeting glance, a shared joke—this app lets you follow up on an ephemeral contact that might otherwise have been lost forever.
Hinge is an app with a mission: "Inspired by love, and guided by authenticity, Hinge creates meaningful connections among those bold enough to seek real relationships." What this means is that Hinge matches you up with friends-of-friends on Facebook, thereby keeping your quest somewhat contained and on the up-and-up. Hinge purports to believe in true love connections; be that as it may, there's a certain allure to going a bit beyond your normal Facebook boundaries.
Music is the universal language, the language of love, the language of soul mates. If only you could find one other person who loves electro-country as much as you do! Well, maybe you can find that special person through Tastebuds, the app that puts folks together based on their musical tastes. Maybe you can find a date for that upcoming concert you're dying to go to!
Welcome to the Neighborhood Apps
If you're new in town, you'll appreciate the appeal of Meetup, which helpfully directs you to groups in your area who share your interests. This is where to look for fellow bookworms, fandango dancers, craftsy sorts, Civil War buffs—you name it, there's probably a Meetup group for it.
Nextdoor is a terrific way to get to know your neighbors before meeting them in person. You can send and receive notifications from people in your immediate neighborhood about yard sales, missing pets, citizens' meetings, road conditions and just about anything else of importance in your community. And don't be shy about asking for recommendations for doctors, dentists, hairstylists or barbershops.
Mothers Meet Up
Peanut is an app "on a mission to build a community of women, who happen to be mamas. Because let's face it, the more women in your life, the better it becomes." You can chat with other moms, create group-chats or arrange in-person meet-ups with other women who "see motherhood as an adventure in the life of a woman. The best chapter in your book, but not the only one."
It's a brave new world out there. Every day, the landscape changes, providing new possibilities for connection. How you meet or where you meet isn't as important as the fact that you are, in fact, meeting some very interesting people whom you'll be proud to call your friends.
References
Writer Bio
Judith loves cats, books, and road trips with her husband. She was born in rural Indiana, studied English Literature at the University of Chicago, and has lived in Chicago, Boston, Deerfield, MA and now Louisville, KY. She owned a bookstore for several years and is a past-president of the Mass. & RI Antiquarian Booksellers. She edits novels and stories, and makes pictures which have been shown in galleries and juried shows. She loves to write, and her motto is "stay curious."