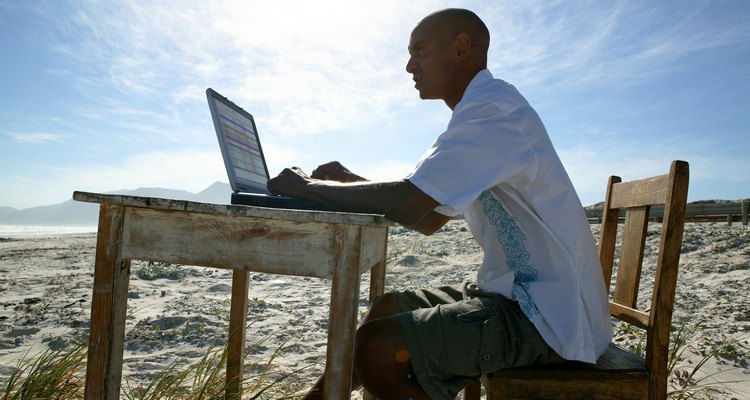 Goodshoot/Goodshoot/Getty Images
If you're trying to find information about someone, and you know his name, there are plenty of places you can go for a DIY background check. Google, Facebook and LinkedIn are great places to start, and there are several people-related search engines that will give you a person's address, phone number, date of birth, names of family members and more, completely cost-free.
Basic Google Search
Google is the obvious place to start your research. Just type the person's name into the search bar and see what comes back. Enclose your search in quotation marks to filter out irrelevant search results. You can also use Google to look up an address or phone number if you're trying to find out who lives where or who's been calling you. Use any information you know to narrow your search results. For example, you might include the person's location, job title, employer, schools she's attended or even the names of people she knows in the search string; for example, "Jane Smith Business Analyst" should return more specific information than simply "Jane Smith."
Visit a People Lookup Site
Zabasearch will look up a person's address and landline phone number for free, and it claims to have unlisted records that don't show up in the White Pages. All you need is the person's first and last names to get instant results. Pipl is a unique people search engine that scours the "deep web," or parts of the web that Google cannot see, for background information. You can get plenty of data completely free of charge, including a person's age, employer, education and names of family members. Paying a small fee to either of these sites can turn up more information, including a Social Security number and criminal records checks going back 20 years.
Search Their Social Networks
People share a lot of information on Facebook, so it's a great place for tracking down email addresses, workplaces, club memberships and even the places where the person likes to hang out. Find a profile by typing the person's name into the search bar; if nothing shows up, the person might have made his profile private. Try typing the following search string into Google: site:Facebook.com "name of person." Any public pages they have commented on will appear in the search results. LinkedIn can also be a good source of information if you're looking for the person's employer, school or credentials.
Public Records Check
To find out whether someone is married or divorced, head over to the website of the National Center for Health Statistics. Click the link for your state to learn how you can search your state's vital record. Some states let you search online; others ask you to visit the county courthouse.
Alternatively, visit SearchSystems.net. Type in the state, and you'll be taken to the public records directory you're looking for, whether that's Alabama marriage licenses or Oregon birth records. SearchSystems won't search the records for you, but it will take you to where you need to look. Plus, the service is completely free.
References
Writer Bio
A former corporate real estate lawyer, Jayne Thompson writes about law, business and personal finance, drawing on 17 years' experience in the legal sector. She holds a Bachelor of Laws from the University of Birmingham and a Masters in International Law from the University of East London. Her work has appeared on numerous legal blogs including Quittance, Upcounsel and Medical Negligence Experts. Find her at www.whiterosecopywriting.com.
Photo Credits
Goodshoot/Goodshoot/Getty Images