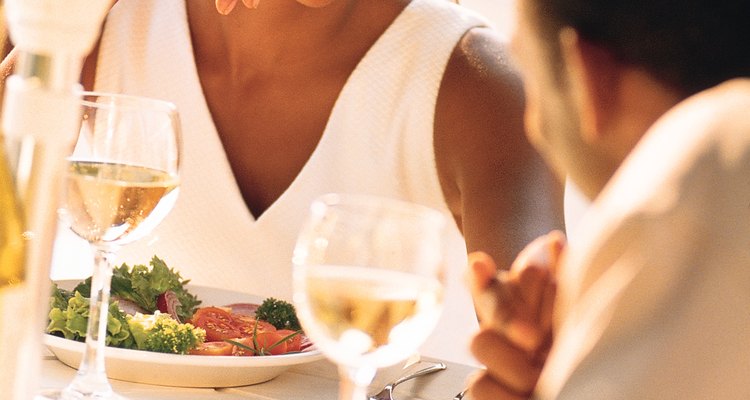 Comstock/Comstock/Getty Images
You don't have to be a professional chef in order to put together a romantic anniversary meal for your spouse. Choosing easy recipes means you can celebrate on your actual anniversary, even if it falls on a busy work week. Since easy dishes don't require a lot of cooking skills, invite your spouse into the kitchen so you can work together, just as you do in your marriage.
Cocktails
You'll each need to have a drink for toasting your years together, and bottles of beer wouldn't be appropriate. Champagne and wine are easy choices that are fitting for a romantic dinner together. If you prefer liquor, mix together pineapple juice and light rum. Arrange a spear of pineapple in each glass. Not only is this drink sweet, but pineapple is an aphrodisiac as well. Whatever you decide to drink, limit yourselves to a few drinks apiece or you'll become sleepy.
Appetizers
Oysters have been believed to have aphrodisiac powers for centuries, and these claims are true. Raw oysters contain zinc, which will put both you and your spouse in the mood for love. Pick up fresh oysters from the seafood section of your grocery store. If you're not fans of raw seafood, wrap pieces of bacon around stalks of asparagus and saute them until the bacon is crispy. Asparagus is also an aphrodisiac, and bacon will make almost anyone feel content and happy.
Entrees
The entree may be the star of the meal, but that doesn't mean it has to be complicated. Roast a chicken with onions and carrots. The satisfying taste of juicy roasted chicken will make you both feel cozy. If you don't have time to cook a chicken, channel the Disney movie "Lady and the Tramp" and cook spaghetti. Heat up some jarred sauce, cook some meatballs, and boil some pasta. Even if you don't want to share one piece of spaghetti and meet in the middle, this classic dish will remind you that you belong together like spaghetti and meatballs. Make a quick green salad to finish out any entree.
Dessert
The tradition for a couple celebrating the first wedding anniversary is to eat the frozen top layer from the original wedding cake, but you can enjoy a freshly baked cake on any anniversary. Make your own cake using a boxed mix and decorate it to look like your wedding cake did, or take a photo of the original cake to a bakery and ask the bakers to make a smaller version. If you're not cake fans, stick with chocolate. Melt milk and dark chocolate together into fondue. Dip berries and sponge cake into the chocolate and take turns feeding them to one another.
References
Writer Bio
Cooking, travel and parenting are three of Kathryn Walsh's passions. She makes chicken nuggets during days nannying, whips up vegetarian feasts at night and road trips on weekends. Her work has appeared to The Syracuse Post-Standard and insider magazine. Walsh received a master's degree in journalism from Syracuse University.
Photo Credits
Comstock/Comstock/Getty Images