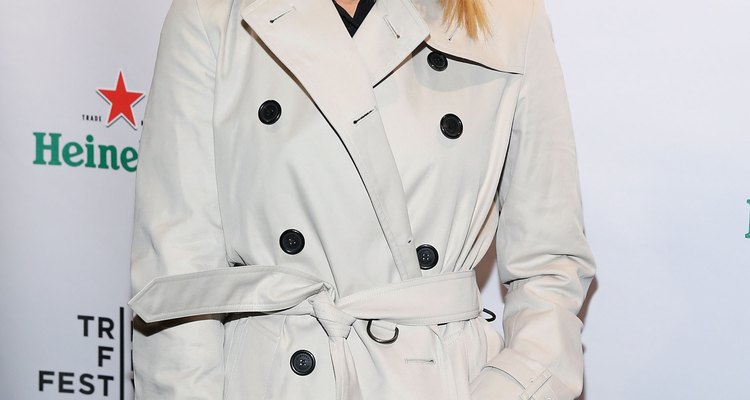 Neilson Barnard/Getty Images Entertainment/Getty Images
Whether you're sporting a single-breasted or double-breasted trench coat, making the decision to fasten every button or leave some undone is a stylistic option that's all yours to make. However, for a nudge toward making a fashion-conscious choice with a purpose, consider some chic outfit ideas with a variety of buttoned -- or unbuttoned -- configurations.
Top or Bottom Unbuttoned
When you're going for a more laid-back look, rather than buttoning up, leave one or several buttons undone for stylistic purposes, or to give yourself more leg room if the trench is snug -- coverage with a pop of personality.
Consider leaving a couple top buttons undone to allow your shirt to show or for a comfier neck experience. Or, leave a button or two on top and bottom undone for a personalized take on detailed styling.
Unbuttoned and Open
Whether you choose a single- or double-breasted trench, this garment happens to look chic when left completely unbuttoned. Like a long cardigan, a trench is streamlined and will shield you from chilly temps or indoor air conditioning. Simply consider some styling tips for a cool look. Spread the lapels wide open and pop the collar for a little extra edge. In addition, to keep belt ends from dragging on the ground or looking haphazard, gently tie your belt in the back; this trick is appropriate for both men and women.
Unbuttoned with Belt Closure
For a deconstructed, chic appearance that still offers adequate coverage, leave your trench unbuttoned but cinch your waist with the trench's belt; or add your own belt for a unique spin. Apple bodies, or those with a desire to camouflage their midsection, skip this look and simply fasten one or two middle buttons for a more flattering appearance.
Fully Buttoned
When you're going for a super-polished look or you're wearing formal attire, go for a fully buttoned trench. If your coat has a belt, fasten it and cuff your sleeves up once if they're too long for a put-together finish. Leave your collar down for a more conservative approach or pop your collar for a bit of an edge. Men, consider closing the belt with a simple knot in front rather than securing the buckle.
References
Writer Bio
Tarah Damask's writing career began in 2003 and includes experience as a fashion writer/editor for Neiman Marcus, short fiction publications in "North Texas Review," a self-published novel, band biographies, charter school curriculum and articles for various websites. Damask holds a Master of Arts in English and creative writing from the University of North Texas.
Photo Credits
Neilson Barnard/Getty Images Entertainment/Getty Images