Jason Kempin/Getty Images Entertainment/Getty Images
Ugg boots have become a fashion staple since their arrival on the U.S. shores in the early 2000s. Introduced in new styles every season in colorful standout shades to stay on trend, Ugg remains warm and comfortable. Making them a must-have for people when it gets chilly outside, but even in popularity people are still daunted with the question: Do Ugg boots stretch? Here are some facts to help you figure out that question.
Classification
Eugene Gologursky/Getty Images Entertainment/Getty Images
Ugg makes sheepskin boots, designed for casual, short-term comfort often with a synthetic sole. A wool inner lining made of soft shank and Merino sheepskin along with wide rounded-toe box, wide shaft, and wide heel box meant to enhance the non-constricting heelless sole comfort. Since the late 1960s beginning with surfers in Australia keeping their feet and legs warm from the cold ocean water to the 21st century where young Hollywood began strutting their stuff in the classic Ugg boots, these shoes have made a statement.
Features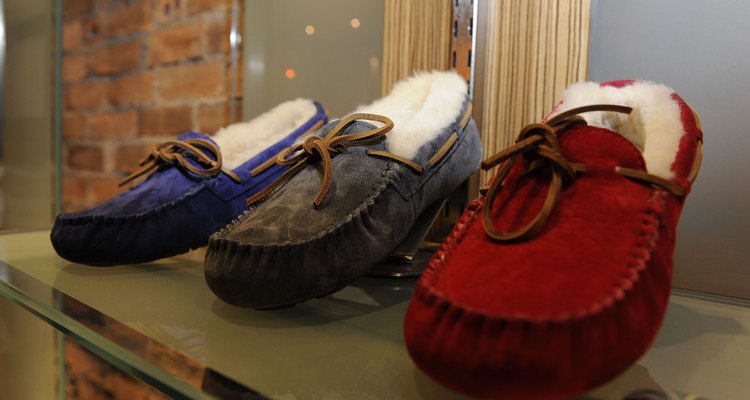 Eugene Gologursky/Getty Images Entertainment/Getty Images
The Ugg brand has expanded its original tall boot fashion: short, wedged, outer leather exterior and sandals. Uggs can be worn all year long, take them to the beach or skiing with socks (wool socks preferably), but most people prefer to wear them barefoot. Wearing them barefoot allows the fleece cushioning to mold to your feet allowing air to circulate, soak up moisture when feet get hot and still remain lightweight; this is due to the leather used making them extremely porous. Ugg's popularity stems from the unique natural insulation properties of sheepskin and simple innovative construction.
Function
Jason Kempin/Getty Images Entertainment/Getty Images
Retailers recommend the classic and knit designs (short or tall) bought a half to full size smaller than your normal shoe size because the boots will stretch. Usually by your fourth to fifth wear, there will be some give in the upper leg shaft extending down to the overall foot bed. Buying them small is beneficial because it will keep your boots snug. The weather conditions, daily function, and amount of use all determine how long your Ugg boots will last.
Take Into Consideration
Jason Kempin/Getty Images Entertainment/Getty Images
Never wash your Ugg boots. They are natural suede and must be taken care of in the same way as a suede coat; a damp washcloth is best. In addition, a suede brush or eraser easily removes scuffs and dirt from the boot surface. If the boot should get wet, place near a heater to let it dry, then brush the interior wool lightly to fluff and also brush the exterior.
Warning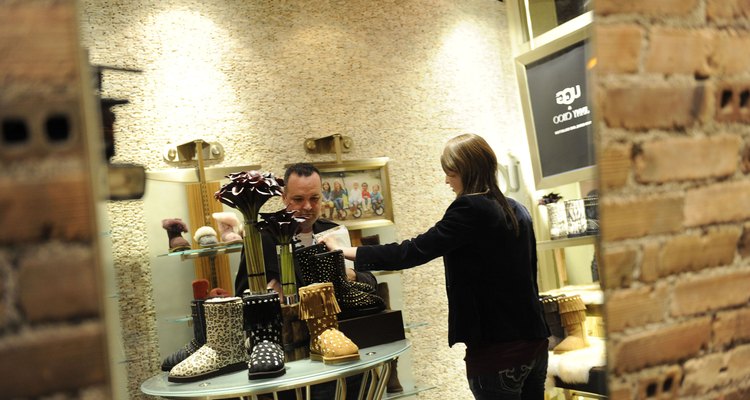 Eugene Gologursky/Getty Images Entertainment/Getty Images
Do not wear Ugg boots in excessively muddy or wet conditions that can ruin the sheepskin exterior because they're made by hand; the displacement of thread or tear can occur. Because of the soft leather used to construct them for comfort, they are not has durable as hard leather boots, but can last for years with proper care.
References
Writer Bio
Tifany Williams is a feature writer from Seattle and a proud alumnee of Howard University's, John H. Johnson School of Communications. Her articles have appeared in regional and community newspapers like The Seattle Medium, The District Chronicles, and online at blackcollegeview.com, where she contributed regularly.
Photo Credits
Jason Kempin/Getty Images Entertainment/Getty Images