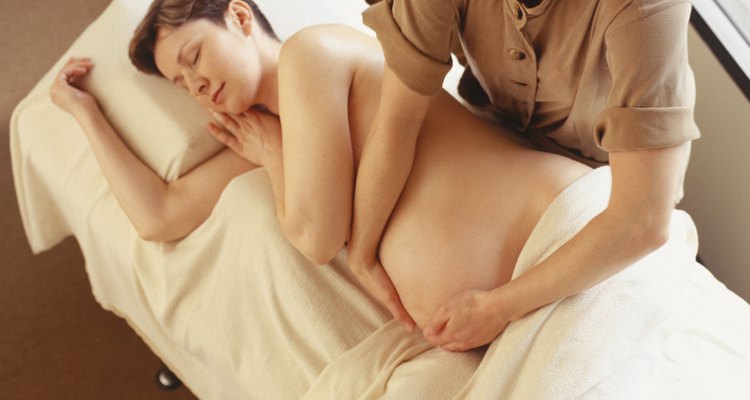 Steve Mason/Digital Vision/Getty Images
Although pregnancy is, under ideal circumstances, a joyous time, circumstances aren't always ideal. Whether the death you've experienced is that of your unborn baby or of another loved one, you might feel as though your heart will never stop breaking. There are no definitive rules for grieving, but know that you can feel your intensely painful feelings without hurting your baby. The key to surviving grief while pregnant is to surround yourself with people who can comfort and care for you.
Step 1
Take care of your body, no matter how hard it is. Eat as well as you possibly can, even if you have to ask someone else to prepare food for you and sit with you while you eat. Remember to take any prenatal vitamins or other medications your obstetrician has prescribed. Rest when you're tired, and schedule times to be pampered with massage, pedicures, haircuts or other services that can help you to relax and take care of yourself.
Step 2
See a therapist or attend a support group. Look for a licensed psychotherapist in your area who specializes in grief and trauma therapy. Therapists are able to recommend support groups for grieving parents and kids' groups for siblings. Your mental health -- not just your physical condition -- is important while you're pregnant.
Step 3
Spend as much time as possible out in the world with people who love you. If leaving your house isn't possible yet, invite your closest friends and family members to come and stay with you. If necessary, give your loved ones' contact information to a trusted friend and ask her to schedule shifts for people to be with you. Limit contact with anyone who makes you feel worse; it's okay to be selfish when you're grieving, as long as you're kind.
Step 4
Honor your deceased loved one in a significant way. If you are carrying a stillborn baby or one who will die shortly after birth, ask your obstetrician about scheduling a remembrance photography session at or shortly after delivery. Some hospital maternity wards work with respectful photographers who offer these services. If you are grieving the loss of another family member or friend, consider incorporating that person's name into your baby's name or having a remembrance ceremony for the person at your baby shower.
Step 5
Connect with other grieving pregnant women online. Search social media groups or go to HelloGrief.com, a community for the grieving to connect. Although nothing will ever replace your loss, you might meet lifelong friends while sharing your grief. Sometimes just hearing about other people's situations makes you feel like you're not alone in your suffering.
References
Resources
Writer Bio
S.R. Becker is a certified yoga teacher based in Queens, N.Y. She has a Master of Fine Arts in creative writing and has worked as a writer and editor for more than 15 years. Becker often writes for "Yoga in Astoria," a newsletter about studios throughout New York City.
Photo Credits
Steve Mason/Digital Vision/Getty Images