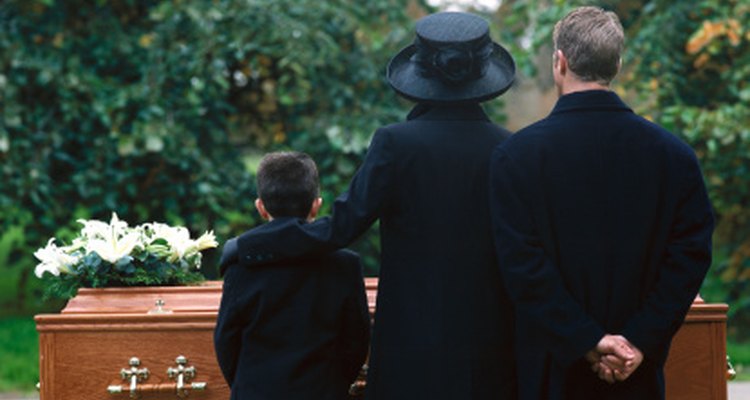 Stockbyte/Stockbyte/Getty Images
When a loved one passes away, surviving family members and close friends are confronted with a variety of emotions and decisions. In addition to the painful reality of never being able to speak to the deceased again, the survivors must plan a funeral service, an act which includes selecting a coffin and writing an obituary. It is also the time for them to request donations in lieu of flowers, if they wish to make this request.
Two Possible Meanings
When an obituary includes the notice "donations in lieu of flowers," family members planning the funeral service are either requesting financial assistance in paying for funeral services, or that monetary gifts be given to a charity in honor of the deceased. Funeral expenses add up quickly. In many cities, families must also pay for the obituary that is placed in a newspaper. Some families know ahead of time that all funeral expenses will be paid for by the deceased's life insurance or prepayment. Often, those families will request that memorial donations be given to a cause dear to the deceased or his family.
Options
There are several ways people may choose to donate to the deceased's family in lieu of flowers. A person, business or organization may donate the use of a facility or offer to cater a meal for the family instead of giving money. If you want to donate this way, contact the deceased's family before full arrangements are published in the newspaper. Another option for donations is to give a monetary donation to the funeral home. After all funeral services have been paid, the funeral home will give any remaining money to the deceased's family. And finally, some families will request that donations be made to a particular not-for-profit organization, like the American Heart Association, National Parkinson's Foundation or American Diabetes Foundation, in memory of the deceased.
Can I Give Flowers?
When a family requests donations in lieu of flowers, they are giving you an alternative to simply sending flowers. This doesn't mean you can't send flowers. Most families will appreciate your expression of sympathy regardless of the form it is given, whether it is money, flowers or food. Keep in mind that if everyone gives a donation instead of sending flowers, there may be too few flowers at the actual funeral service. Depending on your relationship to the deceased and the survivors, you may want to consider sending both flowers for the service as well as a monetary donation in the deceased's name to the funeral home or a nonprofit organization.
Who Gets the Donation?
It is up to you, the person making a donation, to whom you give a donation. If you are giving money to defray the cost of the funeral, you can send a check to the funeral home in memory of the deceased; never send cash. You can make out the check out either to the funeral home or the deceased's family. The funeral home will then provide a running tally of the money it has received and who sent it to the family of the deceased. If you are sending your donation to a not-for-profit organization, many are set up to receive online donations with your credit or debit card; or you can send the donation by mail with a check. When you donate to a nonprofit, be sure to mention the name of the person in whose memory you are sending the donation, as well as your own name and address. Most organizations will send a card to the deceased's family in recognition of your donation.
References
Writer Bio
Stacy D. Cooper received her Bachelor of Arts degree from Indiana University with an emphasis in writing and literature. She is fascinated with books, reads constantly and is the owner and publisher of a book review blog and website. She currently writes for online content providers while raising her two daughters.
Photo Credits
Stockbyte/Stockbyte/Getty Images