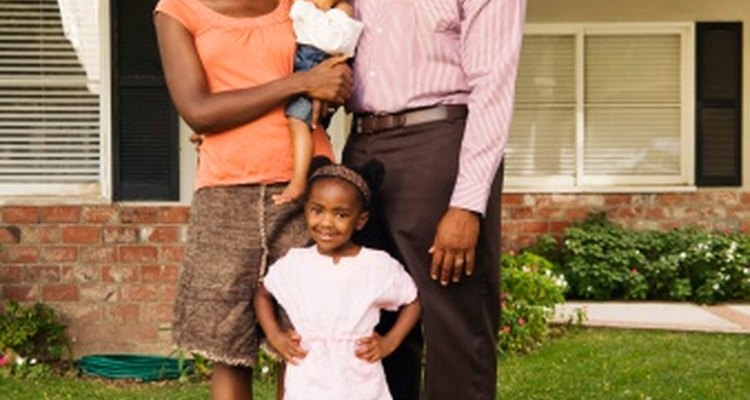 Jupiterimages/Brand X Pictures/Getty Images
Christian couples may choose to bring their new babies or toddlers to the church for a baby dedication ceremony. The ceremony acknowledges that children come from God and parents have an obligation to provide a healthy and loving environment for their children. Other faith traditions also have baby dedication ceremonies. Whatever your tradition, dedication of babies offers an opportunity for parents and community to come together to celebrate the gift of a child.
Flower Dedication
Like a budding flower, a child gradually grows and develops into a unique and beautiful creation of God. Give the parents a tightly closed flower bud as a symbol of the new baby. Remind them how proper light, water, temperature and control of harmful influences influence what the open flower looks like. In a similar fashion, they control the light of spiritual input, the water as physical needs, the temperature of love and friendship and the control of influences that touch this child. Sprinkle flower petals over the child to symbolize the desire to fill this child's life with all good things.
Mother's Day Baby Dedication
Invite all couples who have had babies in the last year or who have joined the church in the last year and have small children to participate in a large baby dedication service. Invite the parents who have babies in the nursery to gather them a few minutes prior to the ceremony, and then invite them all to come to the platform. Give each set of parents a small Bible and a baby dedication certificate as you dedicate each baby. Have the congregation respond at the end of the ceremony with a pledge to support the parents and lovingly pray for each child.
Private Baby Dedication
Invite close family and friends to your home for a baby dedication. Explain that you are honored by their place in your life and in the life of your child. Pledge to raise your child in a loving, peaceful home where this child understands she is wanted and loved, she is unique and she is encouraged to grow into her full potential. Ask each attendee who wants to do so to speak a blessing over your child. Plant a tree in honor of the child and allow them to grow together.
Sibling Supported Dedication
For families that already have children prior to the birth of this baby, you can involve the other children in the ceremony. Assign parts to the siblings in accordance with their maturity level and comfort level speaking in groups. For example, a young sibling might introduce the baby as "My sister, Sarah." Siblings 3 to 5 might ask God to help them love and teach Sarah. Siblings 6 to 10 might offer a prayer or blessing of their own. Older siblings can promise to help her as she grows and nurture her with love and compassion.
References
Writer Bio
Rev. Kathryn Rateliff Barr has taught birth, parenting, vaccinations and alternative medicine classes since 1994. She is a pastoral family counselor and has parented birth, step, adopted and foster children. She holds bachelor's degrees in English and history from Centenary College of Louisiana. Studies include midwifery, naturopathy and other alternative therapies.
Photo Credits
Jupiterimages/Brand X Pictures/Getty Images