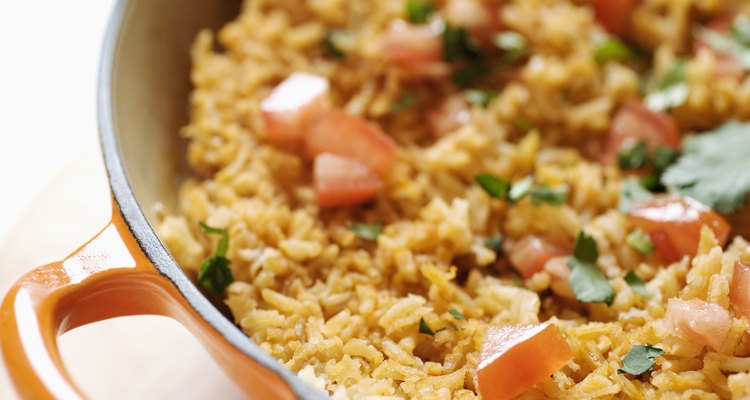 Jack Hollingsworth/Photodisc/Getty Images
Rice flakes, a popular South Asian breakfast dish, are faster and easier to prepare than your typical rice grain. The grains have been boiled, rolled flat and dried, but like their non-flattened counterparts, rice flakes can be quite bland when cooked on their own. Add classic Indian seasonings like turmeric, curry and mustard seed to the mix to give your flakes a flavor boost that hearkens back to the dish's origins.
Step 1
Place the rice flakes in a colander and wash under cool water for about 1 minute. Set the colander aside and allow the flakes to dry for a few minutes.
Step 2
Add 1 teaspoon of vegetable oil to a pan per 1/2 cup of rice flakes, and heat on medium.
Step 3
Pour the rice flakes into the pan after about a minute of preheating. The flakes should be almost fully dry before adding them to the pan.
Step 4
Sprinkle salt and pepper to taste over the flakes, along with other seasonings you enjoy with rice; dried mustard seed, turmeric powder and other Indian spices are popular choices for rice flake dishes.
Step 5
Stir the rice flakes and cook for 3 to 4 minutes, or until the flakes are tender. Stir constantly to avoid the flakes sticking to the pan. Serve immediately.
References
Tips
Fry up diced onion and chilies, full mustard seeds and curry leaves for a few minutes before adding the rice flakes for classic Indian flavors.
Sprinkle the cooked flakes with fresh lemon or lime to add some fresh, sweet acidity to the dish.
Select rice flakes based on the number of intact flakes in a bag; avoid bags that have more powder than others.
Warnings
Avoid burning the rice flakes and splashing yourself with oil by heating the pan no higher than medium.
Writer Bio
Based in Halifax, Nova Scotia, Jordan Whitehouse has been writing on food and drink, small business, and community development since 2004. His work has appeared in a wide range of online and print publications across Canada, including Atlantic Business Magazine, The Grid and Halifax Magazine. Whitehouse studied English literature and psychology at Queen's University, and book and magazine publishing at Centennial College.
Photo Credits
Jack Hollingsworth/Photodisc/Getty Images