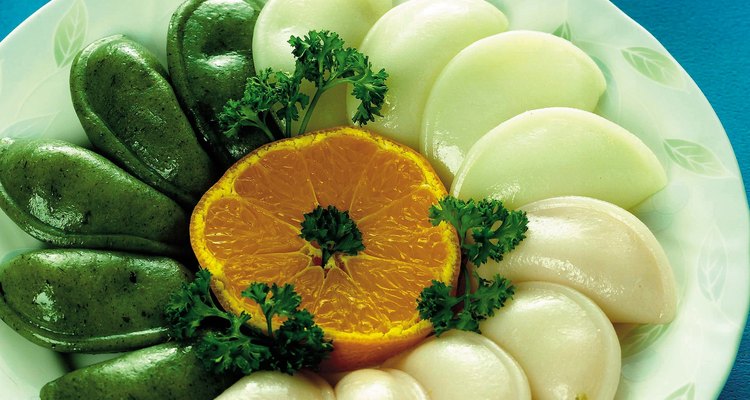 Jupiterimages/Photos.com/Getty Images
There's no denying that all kinds of dumplings, from Chinese dumplings to Polish pierogies, are best eaten hot and fresh. However, when fresh is not possible, frozen dumplings can suffice. You can steam dumplings to perfection with a rice cooker as long as your cooker has a steamer basket. If your rice cooker doesn't come with its own basket, you can use an adjustable metal steamer basket with feet that fits inside your cooker.
Step 1
Fill the bowl of a rice cooker about 1/4 of the way up with water. Cover the rice cooker with the lid and turn it on to the "cook" or "high" setting, bringing the water to a low boil.
Step 2
Attach the metal steamer basket insert onto the rice cooker. If you are using an adjustable steamer basket, place it inside the rice cooker. Do not allow the water to touch the bottom of steamer basket. Adjust the amount of water if necessary.
Step 3
Line the steamer basket with parchment paper. The parchment paper helps keep the dumplings from sticking to the steamer basket.
Step 4
Add the frozen dumplings to the lined steamer basket in a single layer. Cover with the lid and steam the frozen dumplings over the hot water for from 15 to 25 minutes, until the dumplings are fully heated through.
References
The Ultimate Rice Cooker Cookbook; Beth Hensperger
Tips
Check to see if the frozen dumplings are fully heated through after 15 minutes by cutting one open down the center. If it is not ready, let the dumplings cook for another 10 minutes or so before checking again. .
If you don't have a rice cooker, you can add water to a pot or deep skillet and fit a steamer basket inside it to steam the dumplings in the same manner.
Writer Bio
Based in Los Angeles, Zora Hughes has been writing travel, parenting, cooking and relationship articles since 2010. Her work includes writing city profiles for Groupon. She also writes screenplays and won the S. Randolph Playwriting Award in 2004. She holds a Bachelor of Arts in television writing/producing and a Master of Arts Management in entertainment media management, both from Columbia College.
Photo Credits
Jupiterimages/Photos.com/Getty Images