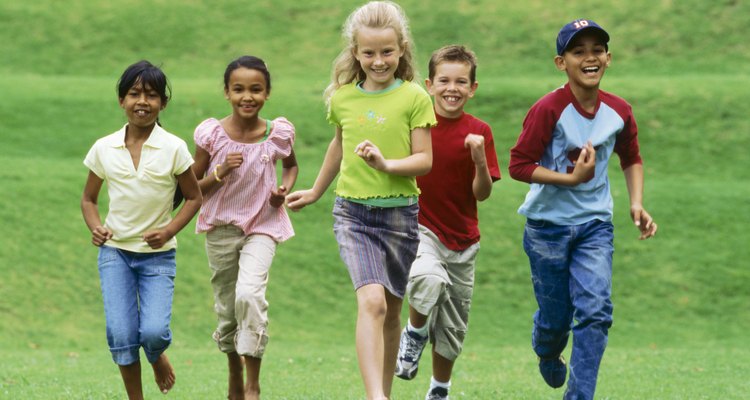 Stockbyte/Stockbyte/Getty Images
The traditional church gathering is a way for members, visitors and community members alike to get to know each other in a safe and caring environment. Aside from a tasty spread of picnic foods, most family fun days also include a range of games and activities that encourage families to have a good time. If you are organizing such a day, consider including one of these activities for participants to enjoy.
Games
Classic outside games, such as croquet, volleyball or badminton, encourage participants to get active and enjoy spending time together. Organize a baseball or basketball game as more ideas. You might include a few carnival-type games, too. Rent a dunk tank and take turns trying to soak the pastors or Sunday School teachers. These kinds of games are good for developing fellowship as you cheer each other on. Include a ring toss booth and a cake walk as additional games that build fellowship and a sense of community.
Contests
A few weeks before the church fun day, advertise a few friendly contests or competitions. You might encourage members to bake a pie so you can hold a tasting contest. In place of the usual burgers or hot dogs, challenge church members to a chili cook-off. Get the word out to the community so visitors can take part in the contests too. The winner gets bragging rights, but everyone that comes gets to enjoy the tasty chili recipes. Rent a karaoke machine and have a sing-off, or play some church-appropriate music and have a dancing contest. If you're having the fun day around a holiday, consider holiday-themed contests such as the ugliest Christmas sweater or the best Halloween costume. Build fellowship and encourage members to get to know visitors by asking them to form teams that include two or three people they don't already know. The spirit of a friendly competition can help form friendships and bring people to your church.
Bible Trivia
This can be played outside, but it's also a good backup if the weather doesn't cooperate on the day of your church fun day. Bible trivia is also a good way to build encourage participants to read their Bibles and an entertaining way to teach Bible stories to children, members of the church and visiting children alike. In the weeks leading up to the church fun day, compose a series of trivia questions based on well-known stories from the Bible such as Noah's Ark or the birth of Jesus. Include easy questions for the children and more challenging questions for the adults. Ask church members to form teams and register their team before the big event. Again, encourage members to find one or two visitors to invite to their team, which will help the visitors feel like they belong in your church.
Additional Ideas
If your church fun day will center around a certain holiday such as Christmas or Easter, gather the children around and read them a classic holiday story or get a group of adults together to act the story out. Host a track and field type fun day and encourage each member, children and adult, to run races, do relays and compete in the high jump. Rent a bounce house or inflatable water slide for the children to enjoy. Many of these inflatable playground-type toys are sturdy enough for the adults to get in on the fun, too. They're also a way to fit physical activity into the event.
References
Writer Bio
Sara Ipatenco has taught writing, health and nutrition. She started writing in 2007 and has been published in Teaching Tolerance magazine. Ipatenco holds a bachelor's degree and a master's degree in education, both from the University of Denver.
Photo Credits
Stockbyte/Stockbyte/Getty Images