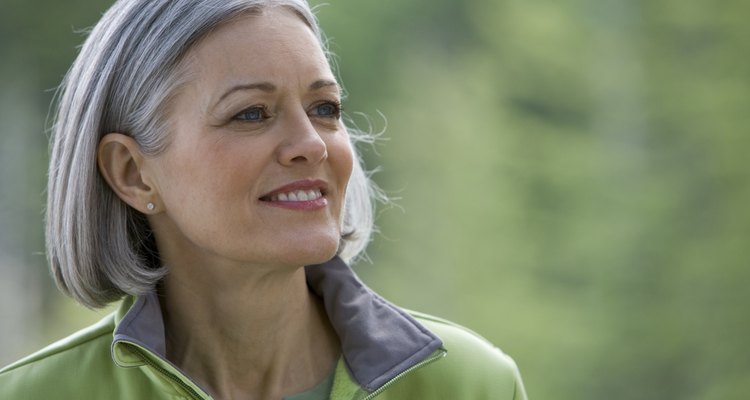 Noel Hendrickson/Photodisc/Getty Images
Dyeing your gray hair helps you maintain a youthful appearance, but it can also be an expensive and time-consuming process. By returning to your natural silvery locks, you'll save cash and have more time to do the things that matter to you. As your gray roots grow back in, they may contrast with the color of your dyed strands. To ease this transition, go gray a little at a time or get rid of the color all at once.
Step 1
Stop coloring your full head of hair. Have a stylist color only your part and your hairline with semi-permanent dye, and let the gray hairs grow in everywhere else. When gray roots start growing in, use a root concealer or semi-permanent dye to blend the grays and colored hairs together. As more grays grow in, the color will gradually fade away. It may take up to 28 shampoos to remove the dye. Eventually, you'll go totally gray.
Step 2
Shave your head if you're in a hurry to go back to gray. Wear a wig that's the same color as your dyed hair was, then wait for the grays to grow back in. When your gray hair is as long as you'd like, get rid of the wig and visit a salon for a stylish cut.
Step 3
Let your gray hair grow back in naturally if you don't mind the two-toned color look. Cut off the colored parts once your gray hair has grown long enough.
Step 4
Get a professional haircut every six to eight weeks to keep your gray hair looking nice. Opt for a clean, modern cut that looks good with gray.
Step 5
Wash your hair with a shampoo that's formulated for gray locks at least once or twice monthly. Gray hair often develops a yellow hue, and this shampoo helps counteract that. Every other day, use a shampoo that contains antioxidants to shield your hair from UV damage.
References
Resources
Tips
When you go gray, you may need to change your makeup and clothing style. Gray hair looks best with striking, bold colors such as black, silver, white and jewel tones. Earth tones, such as brown and beige, don't work as well. For makeup, stick with shades of peach, rose or apricot.
Warnings
Avoid using heavy hair products, such as wax or pomade, with gray hair. They may give your hair an unappealing look.
Writer Bio
Melissa King began writing in 2001. She spent three years writing for her local newspaper, "The Colt," writing editorials, news stories, product reviews and entertainment pieces. She is also the owner and operator of Howbert Freelance Writing. King holds an Associate of Arts in communications from Tarrant County College.
Photo Credits
Noel Hendrickson/Photodisc/Getty Images