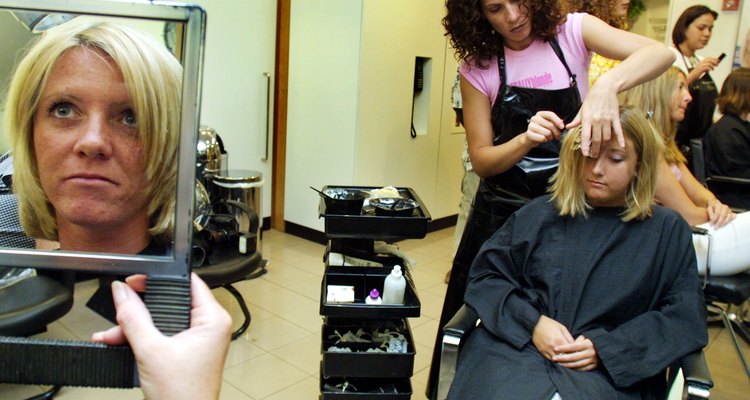 Joe Raedle/Getty Images News/Getty Images
A bad blonde dye job can turn dark hair into a dry, tangled mess of orange strands. Many people make the mistake of trying to dye jet-black hair to blonde without gradually changing their shade over the course of several color treatments. Others sometimes turn to hair bleach, only to have it come out in blonde splotches. While salons can charge hundreds of dollars for fixing bad dye jobs, you can salvage your hair at home.
Buy permanent hair dye from your local beauty supply store, and focus on dying your hair a darker color.
Choose a shade that is slightly darker than the color it is now, but a warmer tone. Hair dye is categorized as levels of shades. A shade of "1" signifies black and "10" represents light blonde. By adding a warmer tone that is about the same level as the color of your hair, you can repair the orange damage. Choose a brown that is roughly around the shade of your hair.
Conduct a strand test. Dye a couple stands of hair with your hair dye. Wait to see if the hair comes out an acceptable color. You may want to experiment, leaving the dye on slightly longer to see if it comes out a color you like.
Apply the hair dye to your head. You may need to buy two bottles of hair dye if you have long hair. Set a timer to the time suggested on the package. Clean off any dye that may have gotten on your skin with a cotton ball soaked in hydrogen peroxide.
Take a strand of hair and wipe it off to check how the color is processing. If the color needs a few more minutes, set your timer again. Wash the hair and apply a deep conditioner. Blow-dry your hair to see the new color.
References
Photo Credits
Joe Raedle/Getty Images News/Getty Images