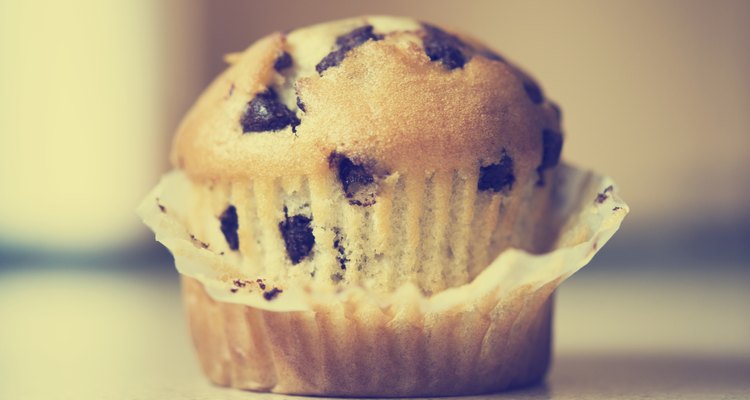 pejagr/iStock/Getty Images
A Betty Crocker Magic Muffin Maker can cook five mini muffins in five minutes or less. The countertop Magic Muffin Maker has a design similar to a waffle iron or sandwich press. The batter is cooked in small muffin-shaped chambers to give sweet and savory muffins a recognizable form. The top and bottom panels apply even heat to the muffin batter from both directions, simultaneously. Make muffins faster in the Magic Muffin Maker and skip heating the entire oven.
Make the muffin batter according to a recipe or use a boxed muffin mix and make it according to the directions on the package.
Plug in the Betty Crocker Magic Muffin Maker. Apply a thin layer of cooking oil spray to the tops and bottoms of the muffin chambers for extra sticky muffin batters, like those that contain marshmallow or chocolate.
Spoon the batter into all five lower chambers until the level is 1/4 inch below the rim of the cups. Close the lid. Snap the handle latch into place to secure the lid for the next four minutes.
Unsnap the handle latch and lift the lid on the Magic Muffin Maker slowly. Insert half the length of a toothpick into the top of a mini muffin and pull it back out. Close and secure the lid for another minute of cooking if the toothpick comes out with raw batter on it.
Unplug the Betty Crocker Magic Muffin Maker when the muffins are cooked. Hold a plate next to a finished mini muffin. Slide a plastic knife along the side of the cooked muffin that is farthest from the plate to pop it out.
References
Home Furnishing Network; Abdeddaim, Michelle Nellett
Writer Bio
Jeffrey Brian Airman is a writer, musician and food blogger. A 15-year veteran of the restaurant industry, Airman has used his experience to cover food, restaurants, cooking and do-it-yourself projects. Airman also studied nursing at San Diego State University.
Photo Credits
pejagr/iStock/Getty Images