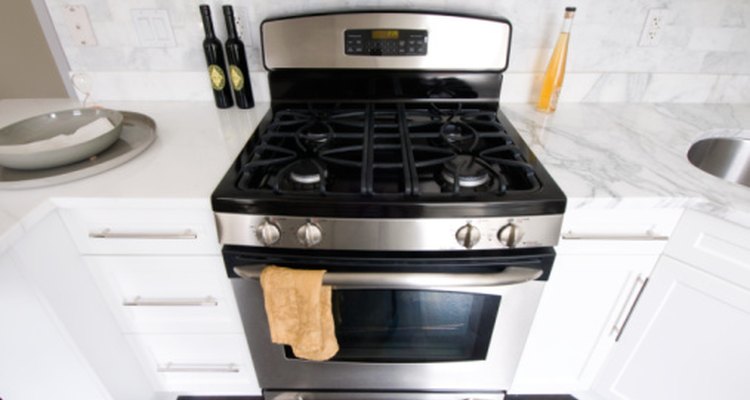 Jupiterimages/Photos.com/Getty Images
H.J. Heinz Company, the manufacturer that sells Bagel Bites, recommends heating the pastries in a convection oven for the best results, but you can also heat them in a microwave oven or a toaster oven. When you bake Bagel Bites in a convection or a toaster over, do not use the crisping tray that comes with the bagels. The crisping tray is only needed when cooking them in a microwave.
Heating Bagel Bites in a Convection Oven
Set the oven to 450 degrees Fahrenheit.
Place nine Bagel Bites on an ungreased baking sheet about 1/2 inch apart from each other.
Put the baking sheet on the oven's middle rack. Bake the Bagel Bites for 10 minutes.
Remove the food from the oven and let it sit for 1 minute before eating.
Heating Bagel Bites in a Toaster Oven
Preheat the toaster oven to 400 degrees Fahrenheit.
Place nine Bagel Bites on a toaster oven tray about 1/2 inch away from each other.
Slide the tray into the toaster oven and bake the Bagel Bites for 14 minutes.
Remove the mini bagels from the toaster oven. Let cool for 1 minute before serving.
Heating Bagel Bites in a Microwave Oven
Take the crisping tray out of the Bagel Bites box and remove the plastic wrapping.
Put the crisping tray in the microwave.
Heat the food on the high setting for 2 minutes or 2 minutes and 30 seconds, depending on how powerful the microwave is.
Leave the bagels in the microwave for 1 minute to cool.
References
Writer Bio
Christa Titus is a dedicated journalism professional with over 10 years writing experience as a freelancer with a variety of publications that include "Billboard" and "Radio & Records." Her writing has also been syndicated to such media outlets as the "Washington Post," the "Seattle-Post Intelligencer," the Associated Press and Reuters. Titus earned a Bachelor of Arts in journalism from Rowan College.
Photo Credits
Jupiterimages/Photos.com/Getty Images