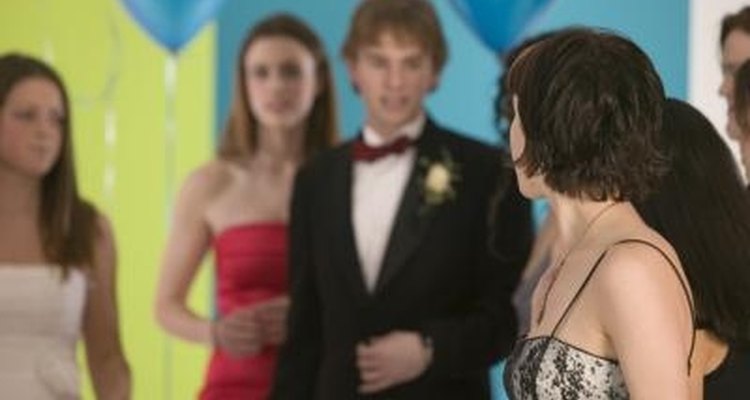 Comstock Images/Comstock/Getty Images
While breakups are always awful, even if it's the right decision for both parties, there are ways to ease the pain. Some people even find a way to stay friends with their ex after a breakup. If you two go to the same high school as your ex and are in the same group of friends, and especially if you were friends before you dated, you may be willing to let go of the relationship but not the friendship.If you've been able to stay friends with your ex-boyfriend, you may want to ask him to be your prom date.
Wait until you have time alone. You don't want to put your ex on the spot in front of a group of people. Also, if he doesn't want to go to the prom with you or already has a prom date, you may be embarrassed in front of your classmates. Lastly, asking him in private will give you two the space to talk about the possible complexities of going to prom together.
Be brave and ask him in person, face-to-face. While calling to ask a guy to prom is acceptable, it'll be much more personal and memorable to do it in person. Also, you'll be able to literally see his reaction and gauge his response. Try to avoid asking him via text, email or a note slipped into his locker. Aside from these tactics being too impersonal, if he doesn't respond right away, you also may not know if he got your message.
Explain that you want to go to prom together just as friends. Clarify that while you think you'll have a great time together, you don't expect to rekindle any romance.
Tips
Don't assume that just because your ex hasn't asked you to prom it means he doesn't want to go with you. Asking a girl to prom can be daunting, and nobody likes rejection. Get the courage to ask out your guy before another girl beats you to the punch.
Warnings
If you or your ex have any dwindling feelings for the other, it may not be the best idea to go to prom together. Unless you both miss each other and want to work things out and possibly get together, or unless you're both completely over the relationship, going to the prom together could result in somebody getting hurt if things don't work out perfectly.
Writer Bio
As a full-time writer in New York's Hudson Valley, Lindsay Pietroluongo's nightlife column and photos have appeared regularly in the "Poughkeepsie Journal" since 2007. Additional publications include "Chronogram," the "New Paltz Sojourn," "About Town" newspaper and "Outsider" magazine. Pietroluongo graduated from Marist College with a B.A. in English.
Photo Credits
Comstock Images/Comstock/Getty Images