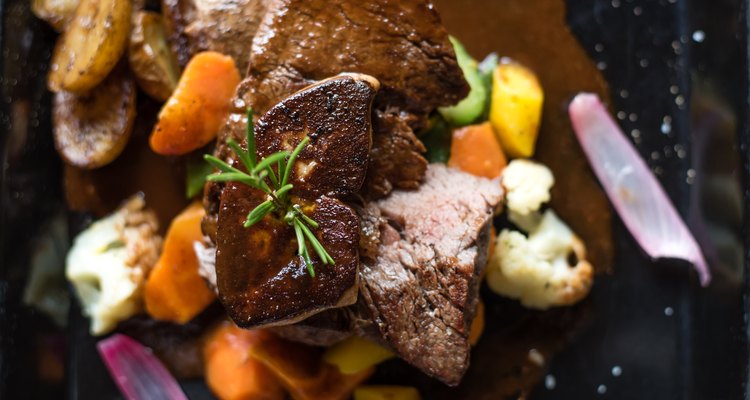 eriyalim/iStock/Getty Images
Served with mashed potatoes or rice, cubed steak with onions and gravy is a filling meal that is inexpensive to make.There are many methods for cooking cubed steak with onions and gravy, with special regional variations for breading the cubed steak or making the gravy. Pan frying, however, is probably the most common method of preparation, while using an electric slow cooker offers a foolproof alternative that also saves time.
Pan Frying Method
Season the cube steak to taste with salt, pepper, and garlic powder. Rough chop one large onion and set it aside until needed.
Pour one cup of flour into a shallow dish or pan. Dredge each side of each piece of cube steak in the flour. Give each piece a firm shake after dredging to dislodge excess flour.
Coat the bottom of a frying pan with canola oil and heat on a medium-high setting until the oil shimmers slightly.
Cook the cube steak for four to five minutes per side until the steak develops a deep brown color on each side. Remove each steak from the pan and store on a plate covered with foil. Add additional oil to the frying pan, if necessary, and continue browning the cubed steaks until they done.
Pour out any excess oil in the frying pan and then add the chopped onion to the frying pan. Sauté the onion over medium-high heat until it is translucent. Remove the onion from the pan and store it with cubed steak.
Adjust the heat to low and add more oil if needed. Sprinkle approximately one-fourth cup of flour into the hot oil, stirring quickly to break up clumps. After the flour is browned, slowly pour in one cup of water or beef broth, continually stirring as you add the liquid to keep clumps from forming.
Stir in the cooked onion and use tongs to add the browned cube-steak to the liquid. Simmer on low with a lid covering the pan for 30 minutes before serving.
Slow Cooker Method
Roughly chop one large onion. Season the cube steak pieces with salt, pepper, and garlic to taste and then dredge in flour.
Heat canola oil in a frying pan on medium-high heat and brown each side of the cubed steaks. When all of the cubed steaks have been browned, use tongs to place them in the slow cooker.
Add chopped onions and pour one can of cream of mushroom soup over the top of the cubed steak and onions. Also add one cup of water or beef broth. Cook the cubed steak on low for eight to 10 hours or until tender. Serve over rice or mashed potatoes.
References
Writer Bio
Shauntelle Hamlett is a nine-year veteran business writer, who has written website, brochure, trade publication, and marketing collateral for industries ranging from music to neurosurgery. Hamlett also specializes in medical writing, and has developed education materials for doctors, medical staff and heir patients. Her publication credits include Unsigned Music Magazine, eHow, Answerbag, Wacom Monthly and justBeConnected.com.
Photo Credits
eriyalim/iStock/Getty Images