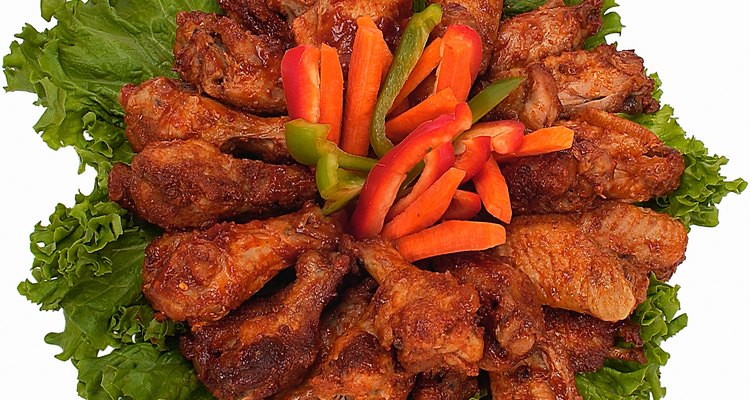 Zedcor Wholly Owned/PhotoObjects.net/Getty Images
Fried chicken drummettes are ideal for tailgating or casual meals with your family. These mini-drums, which are created by dividing the wings into two pieces, are perfect finger foods that are filling and satisfying. Buy a package of prepared drummettes, or save money by purchasing a large package of wings and splitting them yourself to prepare this classic comforting dish. Much quicker than frying larger cuts of chicken, drummettes are done in under 10 minutes a batch, making them a good choice for a quick meal or a large party.
Prepare the Drummettes
Step 1
Heat the oil in the dutch oven over medium-high heat. Pour flour into the bowl and season lightly with salt and pepper.
Step 2
Season the drummettes with salt and pepper. Begin dredging the chicken pieces in flour, shaking off the excess.
Step 3
Place floured drummettes on a separate plate and continue until you've coated all the pieces. Test the oil temperature by sprinkling a little flour into the hot oil. If it sizzles quickly and disappears, it's ready; if not, wait until it does before you start frying.
Fry the Drummettes
Step 1
Add several drummettes when the oil is ready, avoiding overcrowding the pot. Turn the drummettes once to enable even browning. When the drummettes are cooked through, they will float to the surface of the oil. But wait until they have a deep-brown coating to remove them from the oil, which should take about 6 to 10 minutes depending on the size of your drummettes.
Step 2
Remove cooked drummettes from the oil using tongs; arrange them on a plate lined with several paper towels to remove excess oil.
Step 3
Add more chicken pieces and continuing frying and removing them in batches until all the pieces are cooked. Switch paper towels for draining if needed.
References
Delilah's Everyday Soul; Delilah Winder
The New Best Recipe; America's Test Kitchen
Tips
Use a covered plastic container to dredge the drummettes to avoid direct handling; add several wings to the container with the flour, cover, shake and remove pieces to fry.
For a crunchier, thicker coating, dip the floured drummettes in water or an egg and water mixture and then re-dip them back into the flour before frying.
Warnings
Be sure to wash your hands and dispose of packaging directly after handling chicken to prevent the spread of foodborne disease. Wash any kitchen surfaces that come into contact with the drummettes.
Writer Bio
Based in Portland, Ore., Maxine Wallace is a writer with more than 12 years of experience. With a bachelor's degree in journalism and experience working on marketing campaigns for large media agencies, she is well-versed in multiple industries including the Internet, cooking, gardening, health, fitness, travel and holistic living.
Photo Credits
Zedcor Wholly Owned/PhotoObjects.net/Getty Images