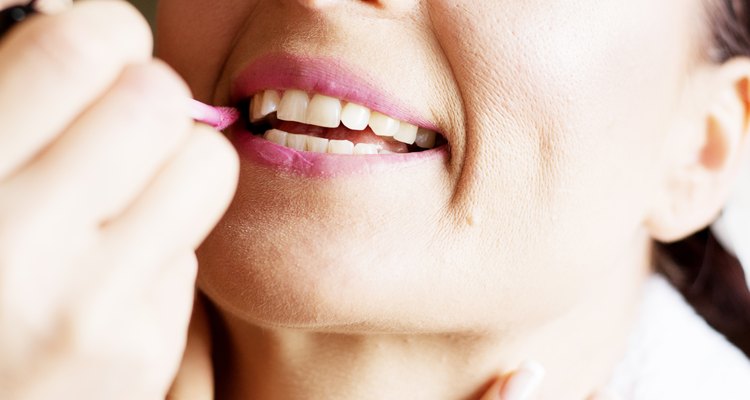 Newnow/iStock/Getty Images
DermaWand, according to inventor Christina Boves, is a hand held skin care rejuvenation system. Originally, DermaWand was a large, commercial unit provided to salons. Boves changed the design to accommodate home use for the device, making it smaller and portable. The site claims the beneficial affects of DermaWand include improved skin quality and a younger look and lists clinical studies as proof of the tools effectiveness. DermaWand uses a high-frequency electronic pulse to massage and firm skin. One product reviewer, The Performance Leader, reports that the DermaWand emits 114,000 pulses per second to tone and lift the skin.
Skin Toning
DermaWand provides a micro current and thermal effect that promises to stimulate skin to improve tone. This exercises the muscles to firm the facial structure. The thermal effect, or heating, provides a way to smooth out fine lines and reduce wrinkles. DermaWand describes this as a "no needle" face lift. The website promises skin will have improved tone and appear lifted after use of the DermaWand. The improved tone will continues and build with daily application, the manufacturer says.
Improved Texture
The company describes this rejuvenation of texture as "oxygenate." In a clinical trial by Laser In-Vitro Testing Limited in 1999, technicians selected locations on the study participants' skin with visibly enlarged pores for DermaWand treatment. On average, there was a reduction in pore size of 13 to 17 percentage points for six separate groups in the study. The theory is the electro-stimulation reduces pore size to improve the texture of the skin. In addition, the study stated 60 percent of those tested had improvement in eye sagging.
Lip Plumping
The current from the DermaWand, when applied to the lip area, provides a temporary plumping of the lips, the company says. This engorgement of both the upper and lower lips results in swelling that enlarges the lip surface and makes this feature stand out. DermaWand also reduces fine lines, or smile lines, that tend to develop on the sides of the face, giving the lip area an overall younger look. The company does not state how long the effect lasts.
Free Trial
The DermaWand company supplies those interested in its product a risk-free trial period that includes the wand and cosmetic treatments to support the device, such as pre-face treatment and a moisturizer.
References
Writer Bio
Writing since 1999, Darla Ferrara is an award-winning author who specializes in health, diet, fitness and computer technology. She has been published in "Mezzo Magazine" and Diet Spotlight, as well as various online magazines. Ferrara studied biology and emergency medical technology at the University of Nebraska and Southeast Community College.
Photo Credits
Newnow/iStock/Getty Images