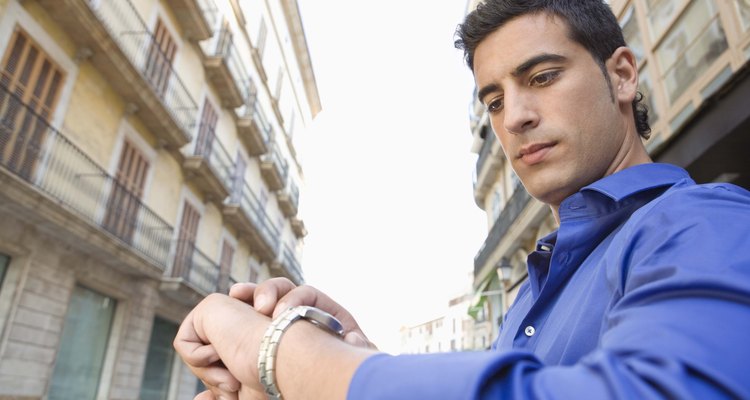 Jupiterimages/BananaStock/Getty Images
Setting a citizen skyhawk Eco-Drive watch is an easy task once you understand the different button functions on the edge of the case. The Citizen Skyhawk is a multifunctional timepiece that converts sunlight into electrical energy through the use of a solar cell, which embedded under the dial. The cell powers the hands, chronograph, functions, timer, alarm and other features. The Skyhawk also features a power save mode, which is an energy conservation feature to keep the watch running in low-light conditions.
Note the 2 and 4 o'clock function buttons and the crown at 3 o'clock on the case edge of the Citizen Skyhawk Eco-Drive. These buttons set all functions of the watch, according to Citizenwatch.com.
Set the home city digital display function at 9 o'clock by pulling the crown to the first position. Rotate the crown until the mode hand in the subdial at 6 o'clock is aligned with TME. Press the 2 o'clock button until the nearest major city where you live appears. Press the 2 and 4 o'clock buttons at the same time to find the home city in the 3 o'clock digital display window. Once the city is selected, the time is automatically set by the automatic radio reception function.
Pull the crown out to the first position to manually set the time. Rotate the crown until the mode hand is aligned with the CAL, TME and RX-S position under the umbrella line. Push the crown flush with the case edge. Point the watch's 9 o'clock side in the direction of the radio transmitter. For example, if you live in Los Angeles, point the watch's 9 o'clock side east towards Ft. Collins, Colo., where the transmitter is located.
Hold down the 4 o'clock button for two seconds until the tone sounds and the second hand stops at the RX-S position. The second hand will then move to H, M or L found at the 2 o'clock subdial. Remain holding the watch in the same position. The second hand will move from the H, M or L position with the hour and minute hands to the correct time once the radio reception is completed.
Press the 2 o'clock button to start the chronograph's stopwatch. Press the button a second time to stop the timer. Press the 4 o'clock button to reset the timer.
Pull the crown all the way out and rotate it clockwise until the correct date is selected. Push the crown flush when finished.
References
Writer Bio
Rob Wagner is a journalist with over 35 years experience reporting and editing for newspapers and magazines. His experience ranges from legal affairs reporting to covering the Middle East. He served stints as a newspaper and magazine editor in Saudi Arabia and the United Arab Emirates. Wagner attended California State University, Los Angeles, and has a degree in journalism.
Photo Credits
Jupiterimages/BananaStock/Getty Images