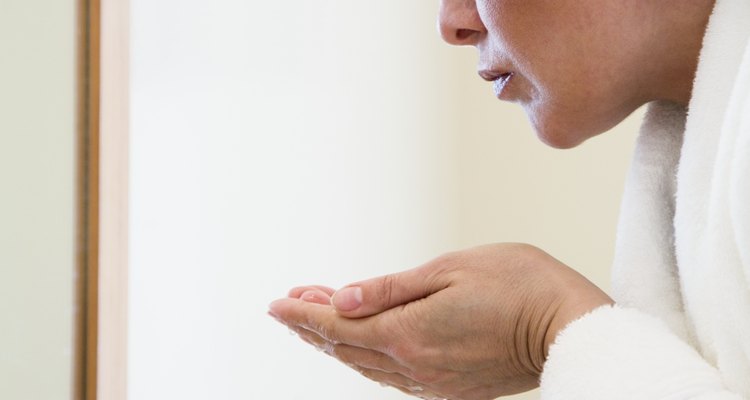 ColorBlind Images/Blend Images/Getty Images
As you get older, fine lines, wrinkles and dull skin are almost a given. Microdermabrasion reduces the signs of aging by wiping away the top layer of dead skin cells. Professionals use powerful tools that combine abrasion with suction, but these treatments aren't affordable for everyone. The Neutrogena Microdermabrasion System is designed to give you better-looking skin at home. The product's microdermabrasion pads are coated with fine crystals and purifying ingredients. According to Neutrogena, this product can increase firmness, refine pores, lessen age spots and ease fine lines.
Hold the Neutrogena Microdermabrasion System attachment head in one hand.
Press a microdermabrasion puff onto the attachment head with the blue side facing up. Push down firmly on the puff to secure it to the attachment head.
Moisten the puff with a small amount of water, but do not completely soak the puff.
Snap the attachment head onto the applicator. Push down to lock it in place.
Slide the applicator switch up to select a speed. Start with a low speed if you're new to microdermabrasion.
Press the puff lightly against your face. Gently buff your forehead, cheeks, chin and other problem areas using small, circular motions. Hold the applicator in one spot for one to two minutes before moving to another area.
Rinse your face well with lukewarm water. Peel off the puff and dispose of it -- do not reuse it.
Repeat the process once a week if you have normal skin. If your skin is oily, use the product as often as twice a week. For sensitive skin, use the product once every two weeks.
References
Resources
Tips
Always use a new puff each time. Using an old puff will decrease the product's effectiveness.
According to Neutrogena, you should see a reduction in fine facial lines after three uses of the microdermabrasion system. You may experience firmer skin after about 12 uses, the company says.
Warnings
This and other at-home microdermabrasion systems might not work as well as in-office dermatologist's treatments.
Do not do a chemical peel on the same day as a microdermabrasion treatment. Doing so can severely irritate skin.
Avoid using this product or similar products if you have rosacea or very sensitive skin.
Writer Bio
Melissa King began writing in 2001. She spent three years writing for her local newspaper, "The Colt," writing editorials, news stories, product reviews and entertainment pieces. She is also the owner and operator of Howbert Freelance Writing. King holds an Associate of Arts in communications from Tarrant County College.
Photo Credits
ColorBlind Images/Blend Images/Getty Images