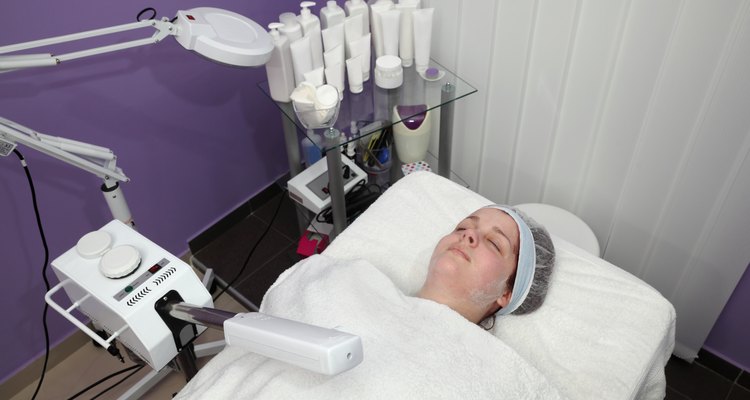 simazoran/iStock/Getty Images
Facial steamers offer both beauty and therapeutic benefits. Steaming the skin opens pores and improves circulation to the area. Steaming can also provide assistance to those suffering from sinus pain or congestion. Individuals with chronic sinus problems may find that regular steaming keeps nasal passages free of debris and mucus. Facial steaming is not a difficult process and with the help of a home unit takes just 30 minutes or less.
Fill the water chamber with warm water. Run water into the filling container and pour it directly into the water reservoir on the steamer.
Place the mask over the opening on the steamer, and align it.
Plug the unit into an electrical outlet, and press the "on" button. Allow the water to heat up. Some units have a sensor light that indicates when the water is at proper temperature.
Wash your face and neck thoroughly with a mild facial cleanser while the unit heats.
Set the timer on the unit if necessary. This allows for timed treatments. According to Conair, a manufacturer of facial steamers, filling the chamber of their unit will allow for 10 to 30 minutes of mist.
Drape a towel around your shoulders, and place your face against the machine's misting mask. If you want more steam, pull the towel up over your head and cover the steamer to trap the mist.
Pull face away often and blot the skin with a cool, damp towel during treatment.
Rinse face with cool water after the steam treatment.
Turn off, unplug the machine and let the remaining water cool. Empty the water out of the reservoir.
Wipe the unit down with a damp cloth, and dry the outside surface prior to storing.
References
Writer Bio
Writing since 1999, Darla Ferrara is an award-winning author who specializes in health, diet, fitness and computer technology. She has been published in "Mezzo Magazine" and Diet Spotlight, as well as various online magazines. Ferrara studied biology and emergency medical technology at the University of Nebraska and Southeast Community College.
Photo Credits
simazoran/iStock/Getty Images