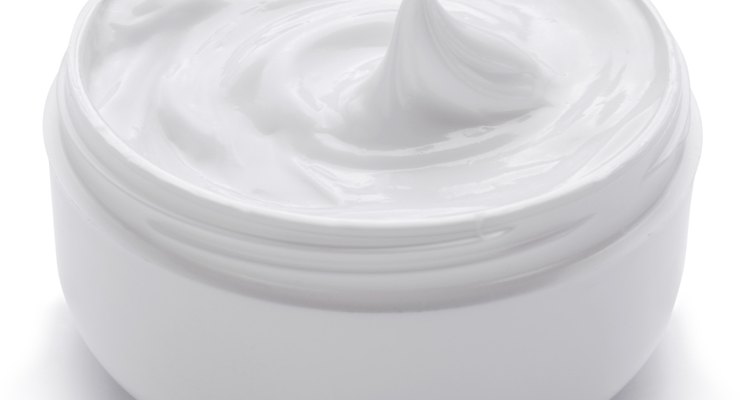 Valentyn Volkov/iStock/Getty Images
Skin moisturizers are critical for maintaining your skin's natural protective moisture barrier and banish signs of dryness, such as unsightly flaking. "Elle" magazine notes that nothing hydrates and firms up skin cells better than hyaluronic acid. Take advantage of the acid's moisturizing properties with a skin care treatment featuring it as an active ingredient.
BeautiControl Regeneration Tight, Firm & Fill Eye Serum
BeautiControl's eye serum performed so well in skin care expert Paula Begoun's tests that she gave it her rare Paula's Pick award for its exceptional formulation. Begoun loved its combination of skin-smoothing and plumping ingredients like peptides, hyaluronic acid and glycerin, all wrapped in a fragrance-free base.
Neocutis Lumiere
Neocutis's cream was ranked as one of the best skin beauty buys by the editors of "InStyle" magazine. They said its hyaluronic acid is added in a potent concentration that will effectively soften even severe wrinkles. They also gave it top marks for its lightweight texture.
Estee Lauder Time Zone Anti-Line/Wrinkle Eye Creme
Estee Lauder's eye skin care product comes recommended by "Elle" magazine because it combines the power of hyaluronic acid with anti-wrinkle peptides. It also includes beneficial lipids and a proprietary antioxidant complex that help to further moisturize skin.
Philosophy When Hope Is Not Enough
Philosophy's capsules are individually packaged doses of hyaluronic acid cream, so you don't expose all of the cream to air and light when you only need a little dose. It was ranked as one of the best products on the market by "InStyle" magazine's editors. It also includes silicone, which smooths over the skin to cosmetically reduce the appearance of wrinkles.
Borghese Crema Saponetta Cleansing Creme
Borghese's cream cleanser can help lift away dirt, makeup and oil for a clear complexion. Begoun notes that it includes not only hyaluronic acid, but also collagen, which may help with signs of aging like fine lines. All-natural herbal extracts, such as chamomile, also help soothe and calm irritated skin.
References
Don't Go to the Cosmetics Counter Without Me; Paula Begoun
Writer Bio
Joshua Duvauchelle is a certified personal trainer and health journalist, relationships expert and gardening specialist. His articles and advice have appeared in dozens of magazines, including exercise workouts in Shape, relationship guides for Alive and lifestyle tips for Lifehacker. In his spare time, he enjoys yoga and urban patio gardening.
Photo Credits
Valentyn Volkov/iStock/Getty Images