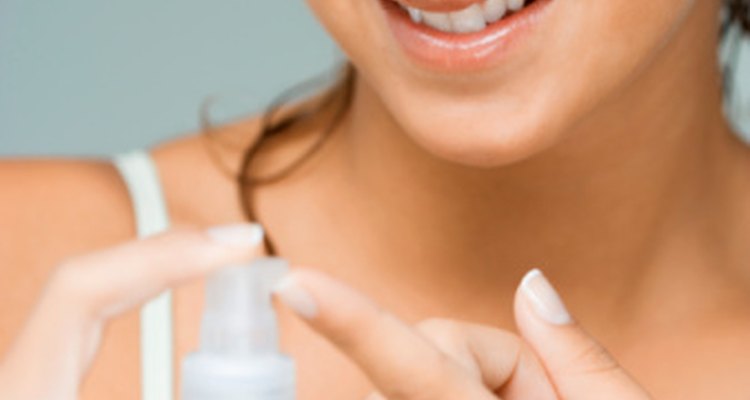 Jupiterimages/Pixland/Getty Images
As the years take their toll, your skin can become damaged and may acquire a sagging, loose texture. Your dermatologist can recommend in-office procedures or prescription-strength creams to help tighten the skin surface. For a more budget-friendly, less drastic alternative, try an over-the-counter cream. Some creams contain ingredients designed to tighten, firm and dewrinkle the skin for a firmer and smoother appearance.
Clinique Turnaround Body Smoothing Cream
The beauty editors of Marie Claire magazine recommend using Clinique's body-firming cream to tighten the skin surface. The magazine reports that the cream's collagen-improving acids result in tighter effects, from your head down to your toes. Additional beneficial ingredients in the body lotion include basic emollients, glucosamine — an anti-wrinkle agent — and antioxidants.
Vivite Vibrance Therapy
Skincare tester Paula Begoun evaluated Vivite's Vibrance cream and praised the manufacturer's use of glycolic acid at a strength of 10 percent. This form of alpha hydroxy acid can help boost your skin's elastin and collagen, notes the University of Maryland Medical Center, for a firmed and tightened look. Begoun also says the cream effectively reduces the depth of your wrinkles while helping to correct skin tone issues by sloughing off damaged skin cells.
RoC Retinol Correxion Deep Wrinkle Night Cream
The University of Maryland Medical Center states that retinol works as one of the best tightening and firming ingredients because it prompts greater collagen production in your cells. RoC's night cream contains retinol as its active ingredient; Allure magazine named it one of 2009's best anti-aging treatments and specifically called it a "miracle." Besides tightening your skin's surface, the cream may also help with other signs of skin damage, such as splotchy skin tone.
L'Oreal Advanced RevitaLift Double Eye Lift
The editors of InStyle magazine picked L'Oreal's eye cream as one of the best beauty eye creams, suggesting it for whenever you need to lift and tighten the skin surrounding your eyes. A dermatologist who reviewed the cream for InStyle said that it has excellent firming and moisturizing ingredients, such as retinol.
References
"Don't Go to the Cosmetics Counter Without Me"; Paula Begoun; 2008
Writer Bio
Joshua Duvauchelle is a certified personal trainer and health journalist, relationships expert and gardening specialist. His articles and advice have appeared in dozens of magazines, including exercise workouts in Shape, relationship guides for Alive and lifestyle tips for Lifehacker. In his spare time, he enjoys yoga and urban patio gardening.
Photo Credits
Jupiterimages/Pixland/Getty Images