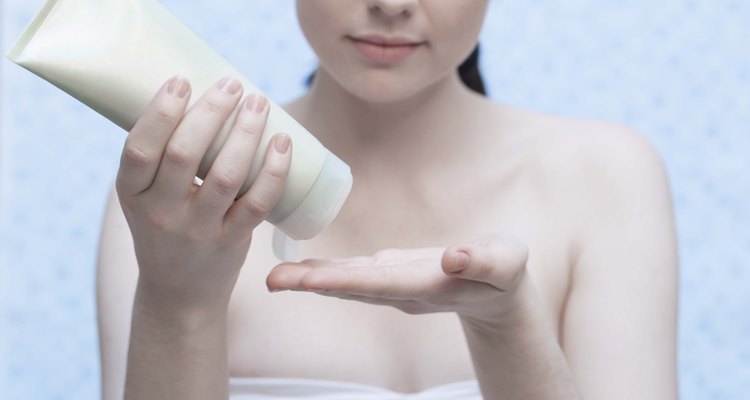 Jupiterimages/Comstock/Getty Images
Retin-A is a Vitamin A-enriched formula designed to control acne-prone skin and improve the look of wrinkles, crow's feet and similar signs of aging. Depending on the potency and brand name, Retin-A products can be expensive, especially if purchased through a dermatologist or plastic surgery clinic. You can order generic Retin-A for less money, but you should first weigh the benefits of doing so against the potential drawbacks.
Generic Retin-A Is Less Costly
Most generic Retin-A, especially those found at online dermatology stores and discount sites, are less expensive than those offered by your doctor. For instance, generic Retin-A with a formula concentration of 0.05 percent might only cost $17 for a 20-gram tube on one site, while you will have to pay over $90 for the same size and concentration in the name-brand solution.
According to supersavermeds.com, it is illegal to return pharmaceutical products, so you won't be able to return your more expensive Retin-A cream in the event that you find a cheaper brand after ordering.
Negative Generic Retin-A Side Effects
Side effects from generic Retin-A are much the same as those from its brand-name counterpart. According to dutypharmacy.com, you might experience skin problems, such as dryness, redness, itching, breaking out and blistering from their generic Retin-A product. The only way to manage this problem is with an oral medication prescribed by a doctor. You might also need to discontinue use if your symptoms worsen after two weeks of use.
Generic Tretinoin Cream Side Effects
Your doctor can prescribe Tretinoin cream, which is basically just a more potent generic variation of Retin-A. Most concentrations of this particular cream are not intended for the anti-aging sector, according to drugs.com, which says it is intended for use on acne vulgaris only. In contrast, medicinenet.com says Tretinoin cream can be used for improving the overall look of skin for anti-aging purposes.
If you are in doubt about the uses for this particular generic Retin-A, consult your doctor. Your skin might not be a good fit for Tretinoin cream, as it does have a tendency to severely dry out any type of skin, causing it to flake and turn red.
Generic Retin-A and the FDA
At an FDA advisory meeting, Dr. K.L. Spear outlined the efficacy of generic Retin-A versus brand-name Retin-A. The results came back much the same for each product; according to this report, there were no statistical differences between the two studies, indicating that generic Retin-A works just as well as its name-brand counterpart. This study indicates there are no cons involved in buying generic Retin-A for safety's sake.
Thus, buying generic Retin-A is not any riskier than the "real thing." Some quantities of Retin-A, depending on the concentrations, are available only with a prescription. Most doctors will honor your request to purchase the generic brand if you so desire.
References
Writer Bio
Rochelle Connery is a professional freelance author and has been writing skin care, travel, music and technology how-to articles since 2006. She has played piano for over 15 years, is a professional songwriter and holds her B.A. in communications from Louisiana Baptist University.
Photo Credits
Jupiterimages/Comstock/Getty Images