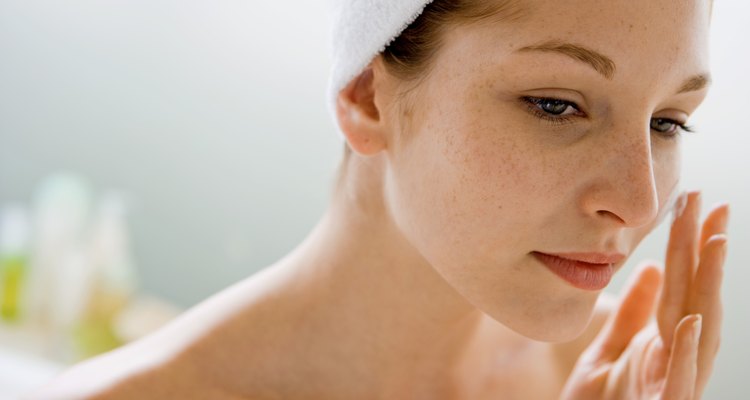 Jupiterimages/Pixland/Getty Images
In the red? Facial redness can be an irritating and distracting skin problem, but there is relief. While lasers generally offer the fastest, most effective solution, there are some power creams that can help restore your complexion and get you out of the red zone in no time.
Causes of Facial Redness
Redness can be caused by several factors, including sun damage, rosacea and skin allergies. UV exposure exacerbates the reformation of tiny, threadlike blood vessels just below the surface of the skin, which can create discoloration. Rosacea is a chronic inflammatory condition that also causes redness across the nose and cheeks, while an allergic reaction to formulas that contain chemical sunscreens, cosmetic preservatives and fragrances could be the culprit of discoloration accompanied by flaking. In any case, visit a dermatologist to properly diagnose your condition.
Treatments for Day Use
Effective over-the-counter treatments for reducing redness include Aveeno Ultra-Calming Daily Moisturizer SPF 15, an "InStyle" Best Beauty Buy. It contains feverfew, which soothes skin irritation and blotchiness. San Diego dermatologist Dr. Benabio says it is important to look for products that contain feverfew or licorice, which can also counteract inflammation.
Another option is the Eucerin Redness Relief SPF 15, which was voted one of the best rosacea treatments for sensitive skin, according to "InStyle" magazine's Best Beauty Buys. New York City dermatologist Jeannette Graf also recognizes the licorice root in this product as an anti-inflammatory that can calm the skin. This fragrance-free and oil-free lotion comes with an added benefit, too. It has a subtle green tint that immediately covers redness. Both the Aveeno and the Eucerin potions also contain sunscreen, which is imperative in a healthy skin regimen to prevent future redness and skin damage.
Finally, Clarins Hydra Quench Cooling Cream-Gel is a hybrid formula that is suggested for normal-to-combination skin or for use in hot climates. It's a good alternative to oil-absorbing products that can get trapped in the folds around the nose where skin is drier, causing redness and irritation, says Dr. Jessica Wu, a dermatologist and "InStyle" contributor.
For Night
A highly recommended solution for a nighttime lotion is the Eucerin Redness Soothing Night Creme, another product containing licorice. The Eucerin cream is also an "InStyle" magazine Best Beauty Buy, one that New York City dermatologist Karyn Grossman finds valuable for sensitive skin not only because of its soothing and hydrating properties, but also because it's not too greasy.
For Cleansing
Like the daily moisturizer from the brand, Aveeno's Ultra-Calming Moisturizing Cream Cleanser contains feverfew. The beauty experts at Oprah.com highlight Neutrogena's Oil-Free Acne Wash Redness Soothing Gentle Scrub as another cleansing alternative that contains gentle, soothing aloe and chamomile, along with soft synthetic microbeads that buff away dirt and flakes without any added redness-enhancing harshness. Also on their list is the Nia Rapid Exfoliating Serum, a leave-on formula infused with prickly pear and willow bark that slowly and gently loosens and rids the complexion of dead skin cells.
References
Writer Bio
Based in Dallas, Rachel Watkins has been writing luxury lifestyle-related articles since 2007. Her work has appeared in "Modern Luxury Dallas" magazine. She holds a Bachelor of Arts in international relations from Southern Methodist University.
Photo Credits
Jupiterimages/Pixland/Getty Images