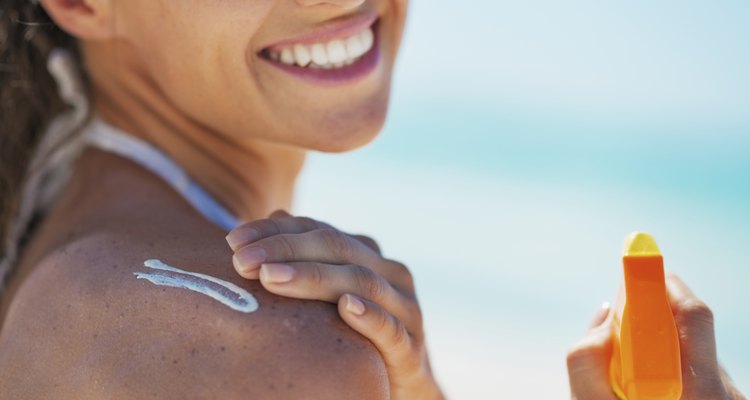 Alliance/iStock/Getty Images
Self-tanning lotion gives you a golden-brown glow that you can't wait to show off. Do-it-yourself tans are rarely flawless, though. The lotion often goes on white or clear, so it's tough to tell just how dark your tan will be. If your skin is speckled with orange blotches or streaks, don't panic -- you're not stuck with the look until the product wears off. Go for a soak in the tub to loosen discoloration, then exfoliate skin to scrub those blotches away.
Wipe blotchy skin with a self-tan remover towelette as soon as possible after self-tanning. These towelettes work best before the self-tanning lotion has changed color on your skin. They'll still fade blotches and streaks, but not completely.
Fill a bathtub with warm water, then add three capfuls of baby oil to the water. Soak your body in the water for at least 20 minutes. Dampen a loofah with warm water, then apply a dab of gritty exfoliating scrub to your blotchy skin. Massage the scrub into the blotches with small, circular motions. As you buff your skin, you should see the blotches fade. Rinse well.
Rub any remaining streaks or blotches with a cut lemon for two or three minutes, then rinse with warm water. The acid in lemon helps erase self-tanner discoloration. Alternatively, mix some lemon juice with a pinch of baking soda in a small bowl. Rub the mixture into blotchy skin, then rinse. Baking soda is a powerful but gentle lightening agent.
Smooth a dab of whitening toothpaste over streaked skin if any discoloration remains. Whitening toothpaste can fade stains on skin in the same way it does stains on your teeth. Rinse well.
References
Resources
Tips
Exfoliate before each self-tanning session. This gets rid of dead patches of skin, so the tanning product goes on smoothly and leaves fewer streaks.
Wipe your knees, elbows, knuckles and the insides of your wrists with a dry washcloth after applying self-tanner. Those spots tend to absorb extra color, so they can look darker if you don't do this.
If you have self-tanner blotches on your face, don't compound the problem with blush or bronzer. Instead, blend a tinted moisturizer around the blotches so your skin tone looks even.
Writer Bio
Melissa King began writing in 2001. She spent three years writing for her local newspaper, "The Colt," writing editorials, news stories, product reviews and entertainment pieces. She is also the owner and operator of Howbert Freelance Writing. King holds an Associate of Arts in communications from Tarrant County College.
Photo Credits
Alliance/iStock/Getty Images