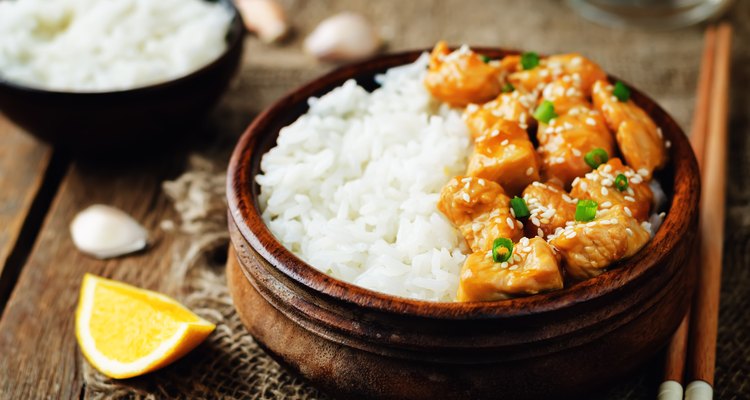 nata_vkusidey/iStock/GettyImages
Prepare Homemade Orange Chicken in Less Than an Hour
Panda Express and other Chinese takeout venues are responsible for the rise in popularity of orange chicken. It's easy to understand why: Fried chicken pieces are coated in a sweet and tangy sauce and tossed with savory spices for a tasty dish that appeals to the whole family. But rather than going for takeout, you can make a homemade version in your own kitchen that is just as desirable – and it will take less than an hour.
Orange chicken does involve a lot of ingredients, and active preparation and cooking times are required. So this may be a recipe to save for the weekend, or possibly to make on a weeknight when you have a bit of extra time. The recipe is not as complicated as it looks; simply follow the instructions, and you'll have a family favorite that came from your own stove.
Total Time: 40 minutes | Preparation Time: 20 minutes | Serves: 4
4 large egg whites

2 tablespoons plus 1 teaspoon cornstarch

4 whole boneless, skinless chicken thighs, cut into bite-sized pieces

1/2 cup orange juice

1 tablespoon soy sauce

1 tablespoon brown sugar

1 tablespoon rice vinegar

1/4 teaspoon sesame oil
1/2 teaspoon salt

1/4 teaspoon crushed red pepper

1 clove garlic, pressed

2 teaspoons minced ginger

1/4 cup water

3 tablespoons vegetable oil

2 whole green onions, sliced

1 teaspoon toasted sesame seeds

Using a large bowl, whisk together the egg whites and cornstarch until frothy. Place the chicken in the bowl and coat with the egg mixture. Allow the chicken to sit and soak up the mixture for about 5 minutes.
Warm a nonstick large skillet on the stove. Place the orange juice, soy sauce, sugar, vinegar, sesame oil, salt, crushed pepper, garlic and ginger into the pan. Whisk together and heat until boiling. Turn the temperature down to low; cover, and allow the sauce to simmer for 3 or 4 minutes.
Combine the water and remaining cornstarch in a mixing bowl, and stir until the cornstarch is dissolved. Stir with the whisk as you slowly add the water to the sauce. You may add more water, such as 2 to 3 tablespoons, if the sauce becomes too thick for your liking.
In a large skillet, heat the vegetable oil. Add the chicken to the oil in small batches. Stir the chicken around the pan with a wooden spoon for 3 to 4 minutes, so that it cooks evenly. Drain the cooked chicken on clean paper towels.
Once all of the chicken is cooked, toss it in the sauce until it is well coated. Garnish with toasted sesame seeds and sliced green onion.

References
Writer Bio
Based on the west coast, Beth Rifkin specializes in business, food, cooking, family, lifestyle and health issues. Her work has appeared in numerous on and offline publications. Beth earned a Bachelor of Business Administration from Temple University.