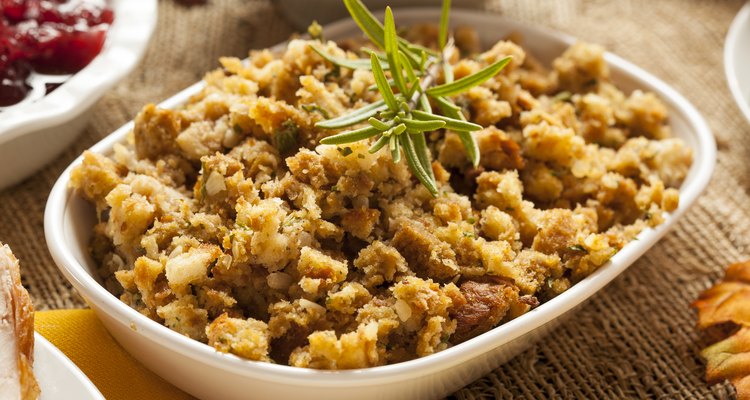 bhofack2/iStock/GettyImages
No Harder Than a Box Mix, and a Whole Lot Tastier
A lot of work goes into a big turkey dinner, so it's entirely understandable if you choose to simplify the process by using a boxed mix for the stuffing. Homemade stuffing usually tastes better, though, and it doesn't load your meal with additives and sodium the way a packaged mix can. It's easy to make from scratch and takes less effort than you'd think.
Total Time: 1 hour 30 minutes | Prep Time: 20 to 30 minutes | Serves: 8 to 10
1-pound loaf of bread, cut or torn into 1/2-inch cubes

1/2 cup butter

2 medium onions (about 1 1/2 cups), diced

2 stalks celery (about 3/4 cup), diced

2 to 3 cloves garlic, minced

1/4 cup chopped parsley or celery leaves

1 teaspoon dried thyme leaves

1/2 teaspoon ground sage

Kosher salt and black pepper, to taste

1 egg, lightly beaten

3 cups chicken broth

Spread the bread on a parchment-lined sheet pan, in a single layer. Either leave it out to dry the night before – the easy option – or toast it in your oven at 400 degrees Fahrenheit for 10 to 15 minutes until it's very lightly browned.

In a skillet over medium heat, melt the butter, and then add the onion and celery. Cook, stirring frequently, for 6 to 8 minutes until the onions are soft and translucent but not browned. Add the garlic, and stir for 1 more minute, then remove from the heat.

In a large mixing bowl, combine the bread, the onion mixture and the remaining seasonings; toss until they're well mixed.

In a smaller mixing bowl, whisk together the egg and half of the chicken broth. Toss it with the bread, and wait a few minutes for the liquid to absorb. Add the remainder of the broth 1/4 cup at a time, until you begin to see broth pooling at the bottom of the bowl. You might not need to use all 3 cups.

Transfer the stuffing to a greased 9- by 13-inch pan or a 3-quart baking dish. Cover the stuffing with foil, or with the lid if your baking dish has one. If you're baking your stuffing at a different time or in a different oven from your turkey, set your oven to 400 F and bake it for 25 to 30 minutes. If your stuffing will bake alongside the turkey in the same oven, allow approximately 1 hour. Either way, uncover the stuffing halfway through the baking time so the top can crisp and brown.

References
Writer Bio
Fred Decker is a trained chef and prolific freelance writer. In previous careers, he sold insurance and mutual funds, and was a longtime retailer. He was educated at Memorial University of Newfoundland and the Northern Alberta Institute of Technology. His articles have appeared on numerous home and garden sites including GoneOutdoors, TheNest and eHow.