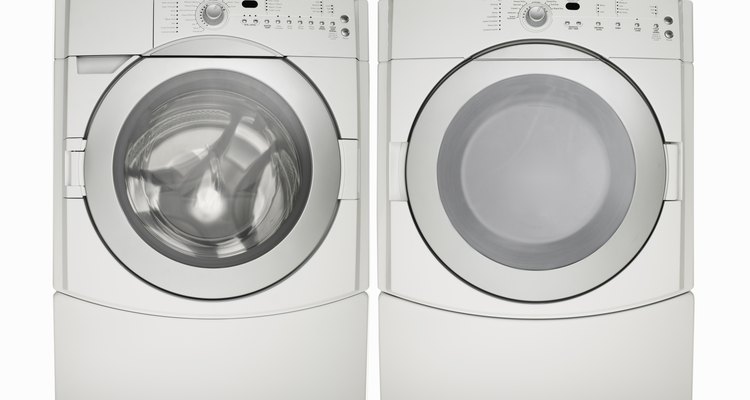 Ryan McVay/Photodisc/Getty Images
Shrinking clothing is not an exact science. It is difficult to precisely shrink clothing by exactly two sizes. Shrinking clothing can be done at home using a washer and dryer. Heat is what makes clothing shrink. For example, you should easily be able to shrink a shirt from a size large to small in one wash cycle. You may need additional washes in order to shrink the item further.
Place the shirt that will be shrunk in the washer.
Set the washer for the hottest, longest setting. You can add detergent, but it is not necessary. Wash the shirt.
Remove the shirt from the washer after the wash cycle ends.
Insert the shirt into the dryer.
Set the dryer for the hottest and longest setting. Dry the shirt.
Remove the shirt from the dryer. The shirt should have shrunk. If it has not shrunk enough, then repeat the process.
References
"The Ultimate Guide to Shopping and Caring for Clothing: Everything You Need to Know from Blue Jeans to Ball Gowns"; Steve Boorstein; 2002
"The Clothing Doctor's 99 Secrets to Cleaning & Clothing Care"; Steve Boorstein, et al.; 2006
"Clothing; Choice, Care, Cost"; Mary Schenck Woolman; 2010
Writer Bio
Erick Kristian began writing professionally in 2008. He has a strong background in business and extensive experience writing fiction and articles related to spirituality and self improvement which are published on growingeveryday.com. Kristian has written several screenplays, produced numerous films, published books and written numerous articles on a variety of subjects. He holds a Bachelor of Business Administration from Schulich School of Business.
Photo Credits
Ryan McVay/Photodisc/Getty Images