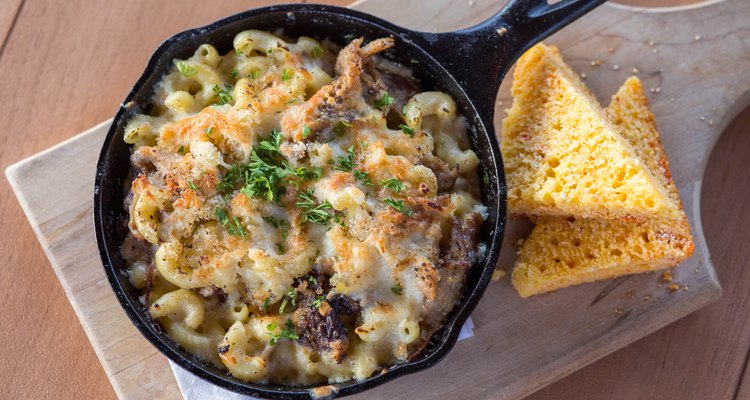 MeaghanHarvey/iStock/GettyImages
Six Ideas for Making the Most of Leftover Pulled Pork
Pork shoulders (a.k.a. butts) are probably the most popular cut for making pulled pork, with their relative toughness yielding nicely to low, slow cooking techniques, while layers of fat enrich and add plenty of flavor to the meat. Cooking this way for hours has benefits beyond texture and flavor: It means that leftover pulled pork is almost impossible to ruin by overcooking, making for a versatile array of recipes that give it the chance for an encore appearance at the table. It's a good thing too, as even the hungriest families are challenged to devour an up-to-10-pound shoulder in a single sitting.
1) Pulled Pork and Pineapple Nachos
Pulled pork, pineapple chunks and flavorful cheese are an irresistible salty and sweet combination when piled over tortilla chips and served all warm and melty. Other toppings that play nicely with the pork and pineapple include black olives, jalapeno slices, black or pinto beans, avocado chunks and sour cream. Make it a more substantial meal by substituting baked wedges of potato or sweet potato for the chips.
2) Mac and Cheese (and Pulled Pork)
Whether your family's go-to mac and cheese comes out of a box or involves homemade sauce with a carefully crafted blend of cheeses, it's certainly a great vehicle for leftover pulled pork. You could stir the pork into a stovetop mac and cheese so that there's pork, pasta and cheesy goodness in every bite, or layer it under a baked mac and cheese dish. Doctored-up with barbecue sauce, pulled pork arranged over a bed of mac and cheese can be baked or broiled until it's deliciously toasty and caramelized on top.
3) Porky Breakfast Hash
A one-pan feast that can feed a crowd for breakfast or any other meal of the day, this hash is a showcase of hearty potatoes, onions, bell peppers, leftover pulled pork and a fried egg as the golden crown on top. Cut leftover cooked potatoes into chunks or use frozen hash browns, and cut the onions and peppers into bite-sized pieces. Mushrooms are a nice addition too. Saute them together until they're cooked and crispy around the edges, and then add the pork to heat it through. Push everything to the side to make room for frying eggs, or turn it all into a scramble instead.
4) Pulled Pork Ramen
Choose between instant ramen noodles from a package and dried noodles (udon, soba or Chinese egg noodles all work) cooked in chicken or vegetable stock as the basis for a pulled pork-packed, ramen-inspired soup. If you're doing without a ramen flavor packet, doctor up the soup base with your choice of Asian seasonings such as soy sauce, garlic, ginger, sriracha, miso, lime juice and fresh cilantro. When the noodles are almost done, add pulled pork and a handful of fresh or frozen vegetables and simmer it all together. Halved hard-boiled eggs are a good addition as well.
5) Stuffed Vegetables
Leftover pulled pork combined with cooked grains, some chopped vegetables and seasonings makes a hearty, savory filling for stuffable vegetables, such as bell peppers, beefsteak tomatoes, larger zucchinis and cabbage leaves, which can be turned into rolls. Good grains to use for this recipe include brown rice, quinoa, barley and bulgur wheat. Diced onions, carrots, corn, mushrooms and chopped greens are suitable veggie additions to the stuffing, and cooked beans work well too. Give the stuffing an Italian flavor with pesto, a Greek spin with lemon and oregano, or some North African spice with a little harissa or ras el hanout.
6) Lettuce Wraps
Reheat a bowlful of pulled pork in the microwave, remove and wash a pile of iceberg, romaine or butter lettuce leaves, pull out condiments and a few other items, and a lettuce wrap dinner is ready in a matter of minutes. Fillings that work with the minimal-prep strategy and also complement pulled pork include diced avocado, sliced green onions, pickles, sliced black olives, beans and corn. Barbecue sauce, hot sauces, blue cheese dressing and sour cream all make great garnishes. With such an array of options, everyone can customize their own wraps, so the whole family will eat happily.
References
Writer Bio
Joanne Thomas has worked as a writer and editor for print and online publications since 2004. Her writing specialties include relationships, entertainment and food, and she has penned pieces about subjects from social media tools for Adobe to artists' biographies for StubHub. Thomas has also written for such names as Disney, Hyundai, Michelob and USA Today, among others. She resides in California and holds a bachelor's degree in politics from the University of Bristol, U.K.