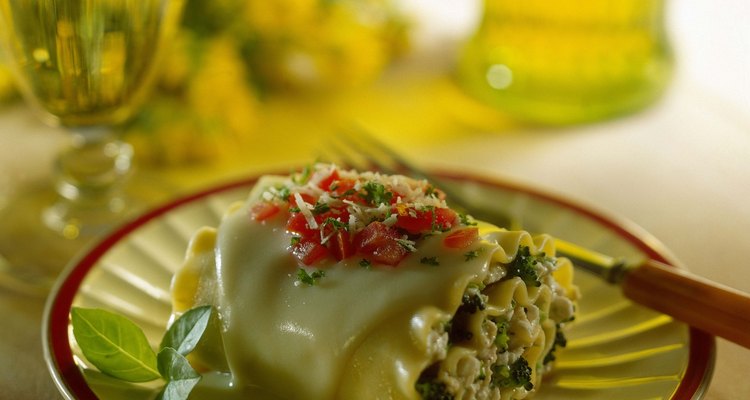 Jupiterimages/Stockbyte/Getty Images
While even the ancient Greeks and Romans ate flat lasagna noodles, tomatoes are from the New World and were not added to pasta until the 16th century. So if tomatoes are too acidic for you, if you are out of tomatoes or if you simply want to expand your lasagna culinary options, you are still cooking a traditional pasta dish. Your options for alternative vegetables are many and varied.
Meaty Mushrooms
While mushrooms work alone in a vegetarian lasagna, you can also add sausage to a mushroom lasagna. With so much flavor, you won't miss tomatoes. Use white button mushrooms or a wild mushroom medley, but cook any type of mushroom before layering it in the lasagna. Instead of a tomato sauce, use a white bechamel sauce made with butter, flour and milk, and add the mushroom cooking liquid and white wine to the sauce as well for additional flavor.
Vegetables Your Way
Eggplant and zucchini are classic substitutes for tomatoes and tomato sauce in lasagna, but you can use any vegetables you would like. Roast or saute the vegetables first, and use an olive paste or tapenade instead of tomato sauce in between the layers for pungent flavor. For more mild flavor, use a bechamel sauce. Possible vegetables include red or green bell peppers, asparagus, carrots and butternut squash, in any combination.
Eat Your Greens
In spinach lasagna, spinach replaces both tomatoes themselves and tomato sauce. You could go all green by choosing spinach noodles and stirring some of the spinach filling into a white, bechamel sauce, or you could use white noodles so the spinach filling and while cheeses stand out. Drain cooked spinach before using it, and squeeze out any excess moisture. For a more flavorful spinach lasagna, add minced garlic to the spinach, turning it into spinach pesto.
Dare to Be Different
For an off-beat lasagna, combine the flavors of pumpkin, Swiss chard and both Fontina and Parmesan cheese. Use canned pumpkin puree in the traditional ricotta cheese and egg mixture and add a bit of heavy cream to thin it so it functions as the lasagna sauce. Swiss chard or spinach, in a separate layer, bring a welcome hint of bitterness to balance the sweet pumpkin, the creamy ricotta and the rich cheeses.
References
Resources
Writer Bio
Susan Lundman began writing about her love of cooking, ingredient choices, menu planning and healthy eating after working for 20 years on children's issues at a nonprofit organization. She has written about food online professionally for ten years on numerous websites, and has provided family and friends with homemade recipes and stories about culinary adventures. Lundman received her M.A. from Stanford University.
Photo Credits
Jupiterimages/Stockbyte/Getty Images