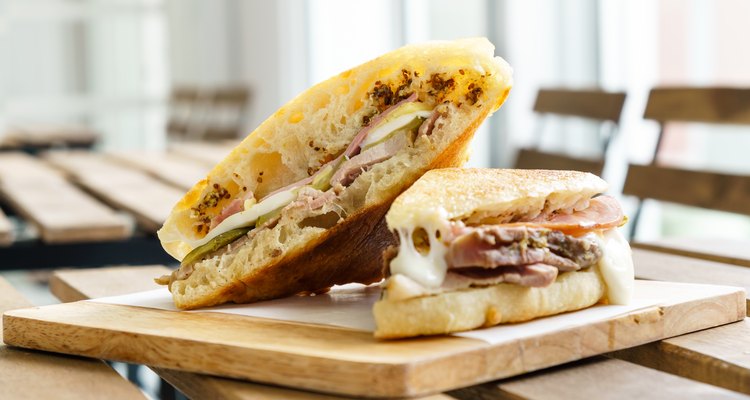 prapassong/iStock/GettyImages
Great Ideas for Making the Most of Pork Tenderloin Leftovers
Healthy, tasty and versatile, pork tenderloin is a great option for family dinners, and that holds true when it comes to creating new dinners with leftovers. Tenderloin is a lean cut with a tendency to dry out if overcooked, so the best uses for already cooked pork tenderloin are those with minimal cooking times. This doesn't mean there's any shortage of delicious leftover dinner options, though, and as a bonus you won't be spending a lot of time in the kitchen.
1. Pork Tacos
Dice leftover pork tenderloin and quickly saute it in some vegetable oil with a pinch each of cumin, chili powder, paprika and some minced fresh garlic. Serve the pork along with warmed flour tortillas or crunchy taco shells and a whole spread of other easy-to-assemble fillings, such as black olives from a can, grated or crumbled cheeses, sour cream, diced avocado, diced raw onion, fresh cilantro, shredded lettuce, lime wedges and hot sauce. Custom pork tacos for the whole family take just minutes to make.
2. Cuban Sandwich
A classic Cuban sandwich is an ideal vehicle for leftover pork tenderloin. Add a side salad or vegetable dish and you have a full dinner. For an authentic version you need Cuban bread, but any soft rolls or sandwich bread you have on hand will work. Layer slices of pork with ham, Swiss cheese and pickle slices, and spread some mustard on the bread. Butter the outsides of the bread and grill the sandwiches on a panini press or in a pan until the bread is golden and the cheese is oozing.
3. Pork Fried Rice
Leftover cooked rice, leftover pork, some frozen vegetables, fresh eggs and a few pantry staples come together in minutes to make a filling, tasty meal of pork fried rice. In a wok or large frying pan, scramble some eggs, and then set them aside. Saute the frozen vegetables until they're thawed, and add the rice, stirring it around until it's heated through. For the final few minutes, return the eggs to the pan along with the leftover pork. Seasonings and toppings are customizable, so use what you have. Good options include soy sauce, sriracha, garlic, ginger, hoisin sauce, green onions, fresh cilantro and chopped peanuts.
4. Pork Pot Pie
Pork pot pie is a dinner that tastes like it took a lot of effort to prepare, but with leftover pork tenderloin and frozen pastry sheets (or homemade if you wish), it's quite straightforward. Melt butter in a saucepan, add flour to make a roux, and stir in a mixture of milk and chicken stock to make a thick bechamel sauce. Stir in diced pork and frozen mixed vegetables. A handful of grated cheese makes the filling extra rich. Top with the pastry, cut a couple of air holes and bake the pie according to the pastry's package directions.
5. Crunchy Pork Wraps
Cold, sliced pork tenderloin plus coleslaw in a wrap is a very easy dinner that's great for warm summer nights, as well as dinners on-the-go. Use tortillas or other favorite flatbreads, and coleslaw mix from a bag with your choice of dressing. Fresh herbs and a sprinkling of nuts add great fresh flavor and some crunch. Use a sesame dressing and sprinkling of peanuts, an Italian dressing plus pine nuts, or blue cheese dressing and chopped walnuts. To make it a full meal, add a side of fresh fruit salad, grilled corn on the cob or a handful of good-quality potato chips.
6. Pork Stroganoff
Pork stroganoff made with leftovers is a very quick and very tasty version of a classic dish. Saute onions and sliced mushrooms in butter until they're cooked, and then add to the pan a splash of white wine, a little chicken broth, a few spoonfuls of tomato paste and a generous dash of Worcestershire sauce. Let everything simmer for a few minutes, and then add leftover pork tenderloin, thinly sliced. As soon as the pork is heated through, stir in several large spoonfuls of sour cream. When the sauce is hot, the stroganoff is ready. Serve it with egg noodles or rice and a steamed green vegetable.
References
Writer Bio
Joanne Thomas has worked as a writer and editor for print and online publications since 2004. Her writing specialties include relationships, entertainment and food, and she has penned pieces about subjects from social media tools for Adobe to artists' biographies for StubHub. Thomas has also written for such names as Disney, Hyundai, Michelob and USA Today, among others. She resides in California and holds a bachelor's degree in politics from the University of Bristol, U.K.