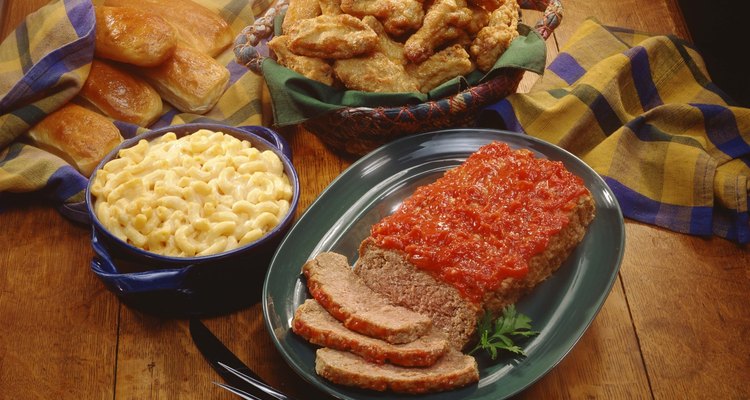 Jupiterimages/Comstock/Getty Images
Why would you want to know how to make meatloaf with ketchup? Because meatloaf is the ultimate comfort food, and folks have been making meatloaf with ketchup for generations. Many top chefs have tried to make meatloaf more sophisticated and classy. But, for most of us, meatloaf made with good, old fashioned, unsophisticated ketchup is what truly feels like home.
Preheat your oven to 350 degrees, and gather your ingredients.
Add the ground beef, bread crumbs, onions, eggs in a large bowl. Add salt and pepper to taste, then mix it all together. Put the meatloaf mixture into a bread loaf shaped pan.
Brush ketchup over the top entire top of your meatloaf. Put the pan in the oven and allow it to cook for about an hour.
Check the temperature of the meatloaf with the meat thermometer to make sure it is done cooking. If it does not read at least 160 degrees, it should cook a little longer.
Tips
Experiment with your meatloaf. Meatloaf is one of those dishes made many different ways. But there is no one right way to make meatloaf. Most meatloaf recipes call for ground beef, onions, eggs and bread crumbs. But, after that, pretty much anything goes, including mushrooms, green peppers, garlic, tomatoes and tomato sauce. You can add different kinds of meats, like ground sausage. Basically, if you think it will taste good, you can put it in your meatloaf.
You can also add brown sugar, honey, mustard or lemon juice to your ketchup glaze for added flavor.
Writer Bio
This article was written by the CareerTrend team, copy edited and fact checked through a multi-point auditing system, in efforts to ensure our readers only receive the best information. To submit your questions or ideas, or to simply learn more about CareerTrend, contact us [here](http://careertrend.com/about-us).
Photo Credits
Jupiterimages/Comstock/Getty Images