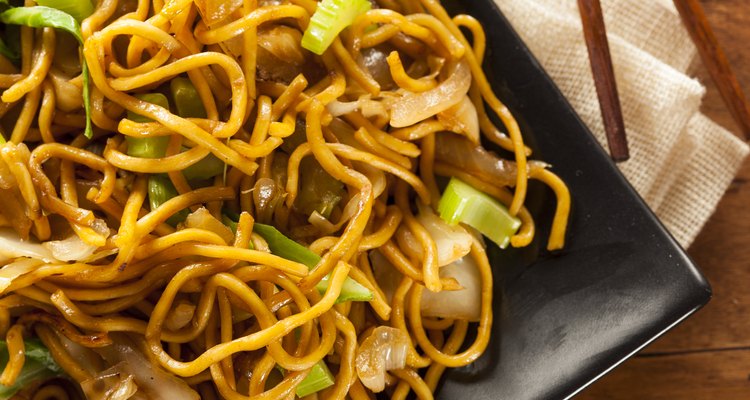 bhofack2/iStock/GettyImages
Enjoy a Classic Asian Dish in Just 20 Minutes
When the craving for Asian cuisine hits, don't immediately rush to order take-out. Instead, enjoy a simple dish of chow mein, which can be made in just 20 minutes. It's just the ticket when you want to put dinner on the table as quickly as possible.
This recipe is particularly versatile, so you can use it as a base and modify it based on what's in your fridge. The Asian flavor comes from the combination of soy sauce and sesame oil, but everything else can be mixed up. If you don't have peanut oil, a neutral vegetable oil works just as well. No lo mein noodles? Use spaghetti or ramen (without the sauce packet) instead. Throw in any extra vegetables (sliced thinly) that you have, and clean out the crisper to boot. Thinly sliced green cabbage works just as well as Napa cabbage. Family members who like extra spice can drizzle on some Sriracha or other hot sauce.
Combine the ease of the prep and the ability for each person to modify the dish, and you'll have a dinnertime hit on your hands.
Total Time: 20 minutes | Prep: 20 minutes | Serves: 4
8 ounces lo mein noodles

1 tablespoon peanut oil

1 carrot, thinly sliced

3 cups napa cabbage, thinly sliced
3 stalks celery, thinly sliced
1 white onion, sliced
Garlic, diced, to taste
1/4 chicken broth
1/4 cup soy sauce
2 teaspoons fresh ginger, grated
1 teaspoon sesame oil
1/4 cup sliced green onions
Bring a large pot of water to boil. Cook the lo mein noodles according to package directions, drain and set to the side.

To a skillet over medium-high heat, add the peanut oil. Give it about a minute to heat up, and then add the carrots, cabbage, celery, onions and garlic. Cook for 1 minute.

Add the chicken broth, soy sauce, ginger and sesame oil and toss to coat the vegetables with the sauce. Cook for 1 minute.

Add the noodles, and toss to combine. Divide the mixture between four bowls, and top each with 1 tablespoon of sliced green onions.

References
Writer Bio
Kelsey Casselbury is a freelance writer and editor based in central Maryland. Not only a freelance writer, editor, and designer, she is also a mom of a preschooler, a volunteer for two nonprofit organizations, and an avid reader, cook, and piano player. She has a bachelor's degree in journalism from The Pennsylvania State University.