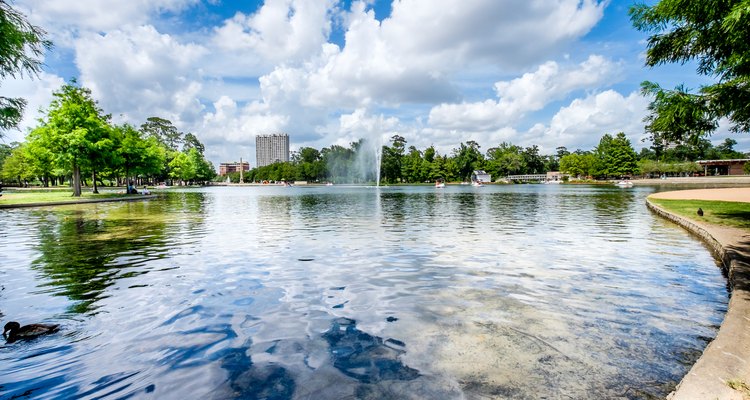 ajamils/iStock/GettyImages
Visit H-Town's Family-Friendly Attractions at No Cost to You
Everything may be bigger in Texas but its largest city, Houston, offers a host of family activities for free. Spend some time exploring Houston's thriving arts and culture scene as you walk through museums without ever opening your wallet. But don't let the bustling metropolis fool you, as H-Town still offers a plethora of public green spaces, from mammoth parks tucked away from busy downtown, to cozy pockets nestled between towering glass skyscrapers.
Relaxation and Recreation in the Park
Lose yourself in nature at the 445-acre Hermann Park (1700 Hermann Dr., Houston, TX). Set out on trails through meadows and wetlands in the Bayou Parkland or head for the Japanese Garden to walk in a landscape dotted with cherry trees, waterfalls and bridges. For a more laid-back afternoon, try a picnic along the shores of McGovern Lake or unleash your kiddies in the playground with interactive water features. Miller Outdoor Theatre (6000 Hermann Park Dr., Houston, TX) offers free programming from mid-March through early October, including family-friendly concerts, stage shows and festivals.
A Pocket of Green in an Urban Setting
Discovery Green (1500 McKinney St., Houston, TX) is a 12-acre park in the heart of downtown with a 1-acre lake and wide open lawns. During the warm weather, kids can cool off in the park's splashpad, frolic in the shaded playground or unwind with a book in the indoor reading room. Use the bocce balls court, putting green and horseshoe pits on the weekends when the park rents sporting equipment for free. Multiple stages provide performance space for free concerts and festivals throughout the year, as well as such special events as writing workshops for kids and dance lessons.
Exploring Houston's Bustling Ports
Embark on a 90-minute boat ride through the Port of Houston (7300 Clinton Dr., Gate 8, Houston, TX) on the M/V Sam Houston, a 1958 vessel with indoor seating should you need a break from the heat. Your family's excursion includes a narrated tour that details Houston's maritime history and gives kids the chance to watch dock workers in action as they move cargo around the buzzing port. The ride is free, but advanced reservations are required.
Dark Night: Winged Critters Take to the Skies
Enjoy a unique experience as you watch the Waugh Drive bat colony (Waugh Dr., Houston, TX) fly across the Houston skyline. Nestled under the Waugh Drive Bridge during daylight, a massive colony of Mexican free-tailed bats emerge each evening, typically at dusk, to dine on insects throughout the city. Watch the winged creatures take flight as your whole family admires the view from an observation deck in Buffalo Bayou Park (1800 Allen Pkwy. & Memorial Dr., Houston, TX). Unlike most colonies, the Waugh Drive bats do not migrate south in the winter and remain in Houston throughout the year.
Craft Time Fun
Houston Center for Contemporary Craft (4848 Main St., Houston, TX) is a museum that showcases craft pieces, including everything from jewelry and ceramics to hand-woven textiles and woodwork. Free one-hour, docent-led tours are available as well where you can watch artists at work and walk through the craft garden to discover how artists use natural materials for such crafty items as dyes and papers. Once a month, the center hosts Craft Social, an all-ages gathering where visitors make crafts.
References
Writer Bio
A travel writer since 2002, Leah Rendon has written countless articles for online pop-culture magazines and various travel-related websites, including Eurobooking and World66. Gosford also has experience in copywriting, having developed a series of articles related to network marketing. She graduated from the University of California, Los Angeles with a degree in theater arts.