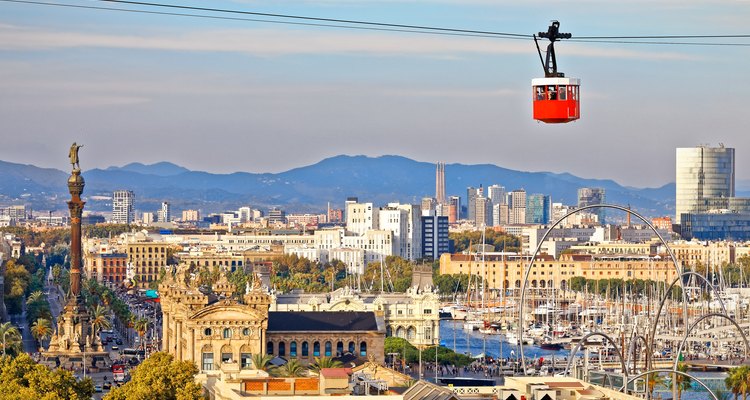 marianceccarelli/iStock/GettyImages
Have a Wild, Whimsical and Wonderful Week in Barcelona
Barcelona's beauty is wackier and more whimsical than the slightly staid elegance of other big cities in Spain, like the capital, Madrid. That means you won't have to work very hard to make it fun for the kids. In fact, the over-the-top eccentricity of architect Antoni Gaudí's creations, the urban fun-sun beaches and the kid-friendly atmosphere of the place make Barcelona irresistible for kids.
Here are five can't-miss activities in Barcelona sure to delight and amaze youngsters, and you'll enjoy them mightily, as well.
1) Ramble Down La Rambla
La Rambla—the tree-shaded pedestrian street that runs through the heart of Barcelona—draws residents and visitors alike to laugh, eat and people-watch. A ramble down La Rambla will fascinate the kids, too. Whether you join the throngs in the morning, afternoon or evening, you'll find enough street performers to keep the gang transfixed. Think fire-eaters, gypsies, artists, flamenco dancers, musicians, human statues and tricksters with three cups and at least one ball. The little shops, art galleries and eateries along the route will keep everyone happy. Don't miss the Mercat de la Boqueria (La Rambla 91, Barcelona), a big farmers market about halfway down La Rambla.
2) Soar Across the Harbor on the Transbordador Aeri Cable Car
Oohs and ahs are guaranteed when you give the kids a bird's-eye view of Barcelona from a cable car that looks more like a ski lift. The Transbordador Aeri Cable Car links the Barcolenta neighborhood to the top of Montjuïc mountain. Youngsters love rides and they'll also appreciate the incredible photo-worthy views of landmarks like La Sagrada Família (Carrer de Mallorca 401, Barcelona) and the Agbar Tower (Avinguda Diagonal 211, Barcelona) from the cable car. From Montjuïc, you'll get an incredible panoramic vista of the city.
3) Visit La Sagrada Família, a Church Unlike Any Other
Barcelona's famous Gothic cathedral, La Sagrada Família, isn't like any church you've ever seen or imagined. From the outside, your kids might think it looks like a dripped-sand castle. Once you get inside, you feel the full power of Gaudí's surrealistic imagination.
Each side of the church has massive stained-glass murals; sunlight seeps through the windows in a way that feels magical and out-of-this-world. Columns soaring to the nave are patterned to look like trees and branches. Unless you have a babe in arms, take the kids on a tower tour for close-up views of the spires, but note that you'll need to go down 300 stairs on the way out. Do yourself a big favor and buy tickets online in advance to avoid a multi-hour wait in line.
4) Ride Tibidabo's Huge Ferris Wheel
Playtime perks in Barcelona start with a visit to Tibidabo (Placa del Tibidabo, Barcelona), the city's amusement park on a hill. Kids love the experience, from the little funicular that gets you to Tibidabo, to the giant Ferris wheel with astonishing views of the city. The rides are quirky and fun—like the 1920s kiddy planes, the ice cream cones are huge, and every photo is a keeper. Pack a picnic lunch to help keep to the budget, but don't stint on time here. Young kids and teens alike will want to stay just a little longer.
5) Bask in the Sun in Barceloneta
Barcelona borders on the Mediterranean Sea, so, yes kids, there is a long beach. It's made of tiny pebbles, and full of locals sunbathing, running, hiking and picnicking. Take the kids out for a boat ride or to the Aquarium Barcelona (Moll d'Espanya del Port Vell, Barcelona). Barceloneta, the neighborhood near the waterfront, is lively and colorful with narrow winding alleys and local shops. You'll see seafood restaurants as well as laundry hanging from balconies. It'll be no problem finding a family-friendly place for hungry kids.
References
Writer Bio
From Alaska to California, from France's Basque Country to Mexico's Pacific Coast, Teo Spengler has dug the soil, planted seeds and helped trees, flowers and veggies thrive. World traveler, professional writer and consummate gardener, Spengler earned a BA from U.C. Santa Cruz, a law degree from Berkeley's Boalt Hall, and an MA and MFA from San Francisco State. She currently divides her life between San Francisco and southwestern France.