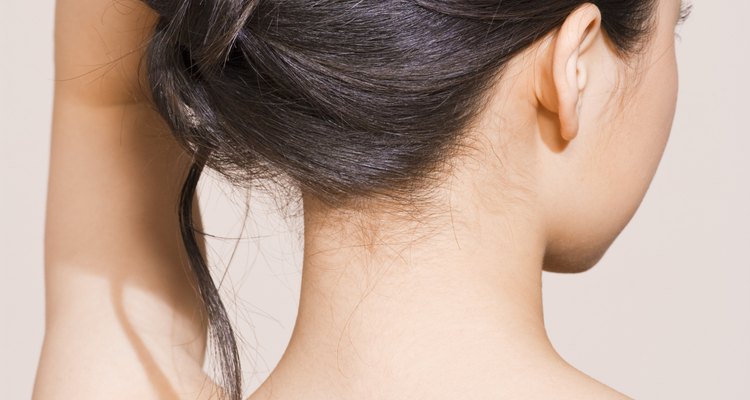 Jupiterimages/Pixland/Getty Images
If you have medium to long hair, you can perch a pretty bun on the top of your head like a ballerina. Women with fine-textured or thin hair may have a more difficult time. If backcombing your hair doesn't give you the fullness you desire, try a few variations of the sock method to increase your hair volume and get the full bun that you want.
Roll the Sock Down
Gather the hair up into a ponytail on the highest point of your head using a paddle brush and secure it with an elastic. Smooth the surrounding hair with your fingers to get the lumps and bumps out of your hair.
Select a clean, short sock. Cut the toe off the sock with sharp scissors.
Gather up the sock, doughnut-style. Slide the sock down the ponytail, bringing it to rest on the scalp.
Twist the end of the ponytail two or three times. Wrap the ponytail around the sock, covering it completely.
Pin the hair with bobby pins to keep the bun in place. Douse the bun with a blast of hairspray.
Ponytail Roll Down
Place the cut-up sock at the tip of the ponytail.
Roll the sock down the ponytail, gathering hair as you go. Ease the sock down slowly for the smoothest finish.
Secure the bun with bobby pins, but keep some hair loose for a more casual look.
References
Tips
Leave a few wisps of hair hanging around the brow or at the back for a feminine look.
Writer Bio
Mimi Bullock's writing reflects her love of traveling the back roads of small towns and sampling the local cuisine. As a regular feature writer for "Southern Hospitality Traveler" and journalist for "Beachin' Magazine," she gets to experience the rich heritage of the southern culture. She is also a licensed cosmetologist who has her own skin care line.
Photo Credits
Jupiterimages/Pixland/Getty Images