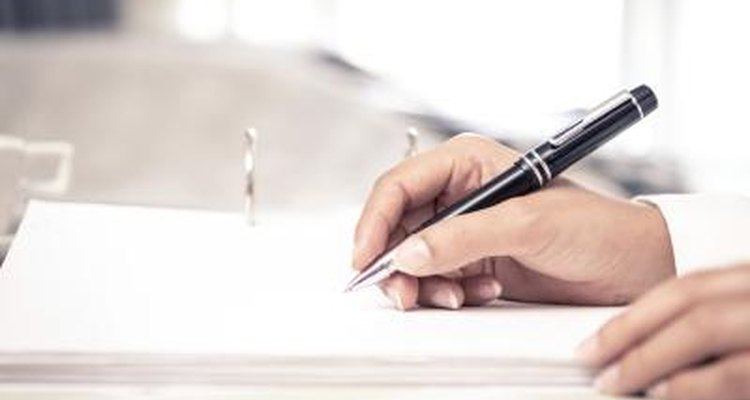 sirastock/iStock/Getty Images
A handwritten letter of thanks is a great way to show appreciation to your daughter-in-law. The Emily Post Institute suggests that thank you notes are always appropriate, especially when you received a present or a condolence note. You might also choose to write a letter of thanks for a special favor or simply to express your appreciation for a close relationship. Email and phone calls are acceptable for most situations involving close relatives, but handwritten letters add an extra personal touch.
Step 1
Select nice stationery with a matching envelope. Although it is not strictly required, your note will look both more elegant and more personal on pretty paper than on lined notebook sheets. You can order expensive embossed stationery or simply choose something you like at an office supply store.
Step 2
Open with a friendly greeting, making sure that you spell your daughter-in-law's name correctly. Refer to her however you normally do, whether it is Joanna or Jo-Jo. Avoid the tendency to become stiff or formal.
Step 3
Say "thank you," and specify what you are thanking her for. Use the first sentence to create the context for the letter, such as thanking your daughter-in-law for a recent favor or explaining what she means to you.
Step 4
Add details, but avoid rambling. If your daughter-in-law gave you a gift, tell her how you plan to use it. If the letter is an expression of gratitude for your relationship, describe three or four specific ways in which she enhances your life.
Step 5
Show off your personality and individual flair. A letter of thanks is an intimate exchange between two people, not a rigid business correspondence. Feel free to use casual language, idioms, slang and references to in-jokes or past experiences that the two of you shared.
Step 6
Mention a future get-together. Whether she has dinner at your house once a week or will visit sometime next year, tell your daughter-in-law how much you are looking forward to seeing her again. Personalize this connection by noting something specific that you really enjoy about her, such as her shrimp cocktail or talent on the golf course.
Step 7
Close the letter with another reference to your thanks along with a detail or two that you did not mention previously.
Step 8
Sign off with a warm farewell. Instead of "Sincerely," try "Missing You," "Love," "Warmly," or another expression that highlights your relationship.
References
Writer Bio
Lisa Fritscher is a freelance writer specializing in disabled adventure travel. She spent 15 years working for Central Florida theme parks and frequently travels with her disabled father. Fritscher's work can be found in both print and online mediums, including VisualTravelTours.com. She holds a Bachelor of Arts in psychology from the University of South Florida.
Photo Credits
sirastock/iStock/Getty Images