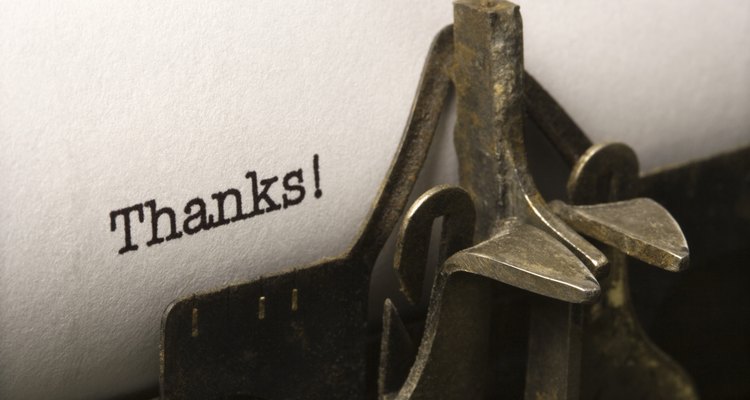 Jupiterimages/Comstock/Getty Images
A funeral is a trying and emotional time for family members. The funeral home staff and the funeral director are there to make the time as easy as possible for the family. It is appropriate to send a thank-you note to the funeral director after the services have concluded.
Step 1
Begin the note with a salutation based on what you called the funeral director during your interactions with him. The thank-you note may begin with his name or with a greeting such as "Dear Joe."
Step 2
Write to the funeral director from your heart. They have been involved with your family during a very personal and emotional time. It is acceptable to be more personal in the thank-you note than you would typically be for a traditional thank-you note to a business.
Step 3
Indicate that you appreciate the funeral director and the staff of the funeral home for all of their assistance in preparing the arrangements for the funeral and the burial or cremation. If there were specific special touches that especially helped your family members deal with the death, mention those events. Knowing what helped other family members can help the funeral staff to assist families in the future through their grieving process.
Step 4
State that you were happy with the services that you received and that you will gladly recommend the funeral home to other family member and friends when the need arises. This is one of the highest compliments a business can receive.
Step 5
Close the note with an additional thank you and your signature. If the note is from a family as a whole rather than a specific family member, it is acceptable to sign the note "The Smith Family."
References
Tips
Thanks-you notes should be written longhand when possible. It give the note a more personal touch.
Writer Bio
Leigh Anthony has provided ghostwritten content for a variety of small-business sites since 2004. Her work appears on eHow and Chron.com. Her areas of expertise include marketing, human resources, finance and leadership. She holds a Master of Business Administration from the University of Georgia.
Photo Credits
Jupiterimages/Comstock/Getty Images