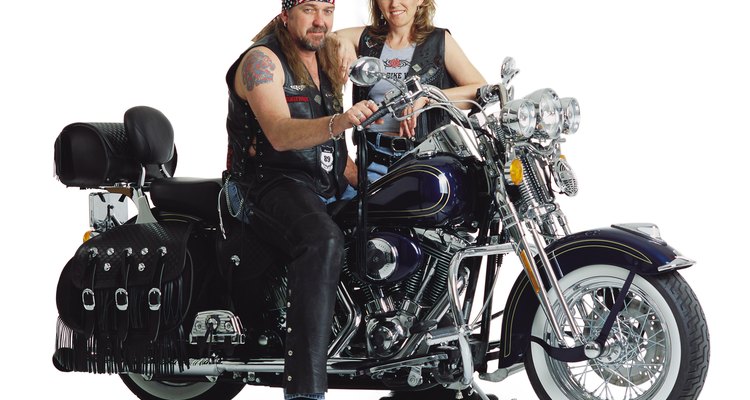 Photodisc/Photodisc/Getty Images
Bikers can often be seen wearing jackets or vests adorned with colorful patches. While these patches serve a decorative purpose, they are also meant to convey certain information. These patches can tell you about what type of clubs or organizations the biker may be affiliated with, as well as some of the activities in which he may have participated.
One-Piece Back Patch
A one-piece patch worn on the back of a jacket or vest usually signifies that the wearer belongs to a motorcycling organization or riding club. These patches contain such information as the club name and logo and in some cases the location, and they often indicate a group that is sanctioned by the American and the Vulcan Riders Association, both open to any member willing to pay dues and abide by their rules.
Three-Piece Back Patch
Some motorcycle clubs, usually ones which have adopted rigorous standards about who can earn the right to be a member, have adopted a three-piece back patch system to set them apart from what they consider more mainstream one-piece patch clubs. The center patch carries the club's emblem, while a top "rocker" patch bears the name of the club and an additional bottom rocker identifies the club's location. Sometimes a club member who isn't affiliated with a local branch will, instead, have the word "nomad" on his bottom rocker to signify his status. Together, all three patches are known as a club's "colors."
Activity Patches
Motorcyclists who attend a major rally such as the ones at Sturgis, South Dakota, or Daytona Beach, Florida, will be given a patch known as a rally badge. Similar badges may be given to bikers who participate in charity rides. Some bikers display a patch with the flag of their country of origin, or, in some cases, the country of origin of their motorcycle, while others adopt patches that tell of their military service.
Outlaw Biker Insignia
Many self-designated "outlaw" motorcycle clubs wear diamond-shaped patches with a log reading "1%." This refers to the fact that they consider themselves apart from the 99 percent of motorcyclists alleged to be represented by the American Motorcycle Association. Other patches worn by outlaw bikers can represent the wearer's having engaged in activities which may be sexual or even criminal in nature. One of the best-known of these patches is the number 13, which is said to stand for the 13th letter of the alphabet, "M," and be a veiled reference to either marijuana or methamphetamine.