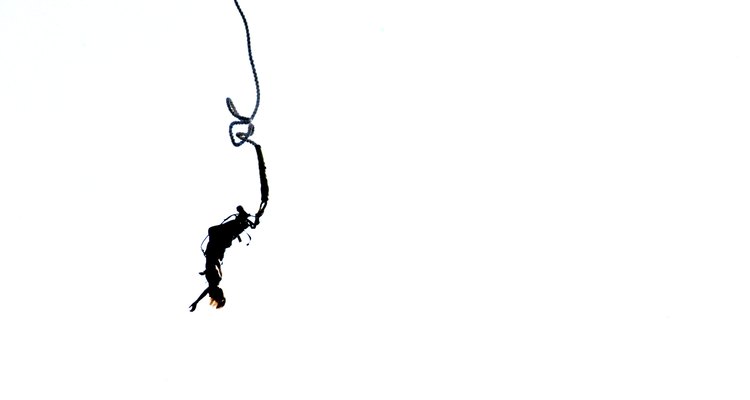 salajean/iStock/Getty Images
Bungee jumping is an example of an extreme adventure sport; it involves jumping off of a building, bridge or other tall structure while connected to a long elastic cord that stops you from hitting the ground. There are a few places in South Carolina and neighboring North Carolina that offer ideal locations for bungee jumping, particularly those cities that draw the greatest amount of tourists.
Location Regulations
Businesses in South Carolina supervise amateur and expert-level bungee jumpers in secure, regulated locations. According to the South Carolina Code of Laws, these organizations are required to gain a permit from the state and adhere to safety laws. When you look for a bungee jumping facility in South Carolina, be sure that the jumping is done from a fixed platform, and is situated over a safety air bag.
Myrtle Beach Bungee
Myrtle Beach is located right along the Atlantic Ocean on the eastern edge of South Carolina, and draws a great number of tourists to its beaches each spring and summer. One company that offers tourists and locals alike the opportunity to bungee jump is Air Boingo, which is located just off the ocean on 8th Avenue North. The company supervises jumpers as they bungee off an 80-foot drop, and has had more than 2 million successful jumps.
Myrtle Beach is also home to the Slingshot Ride, a type of backward bungee jump that actually flings adventurers up into the air while they are connected to a long bungee rope. The Slingshot ride can help jumpers reach heights of 180 feet. The Slingshot is located on North Ocean Boulevard in Myrtle Beach, just blocks away from the ocean.
Gear
Reputable companies offering bungee jumping in South Carolina typically provide jumpers with all of the necessary equipment. However, there are some sporting goods stores in the state that do sell bungee gear to advanced and experienced jumpers. The primary piece of equipment needed is the bungee cord, which should meet regulations set forth by an organization such as the U.S. Occupational Safety and Health Administration (OSHA). Jumpers also often choose to purchase their own chest harness, body harness or seat harness, based upon their preferences. Additional accessories may include cord covers and bungee cord bags.
Travelling Bungee Companies
Some adventure excursion corporations allow businesses or individuals to rent their services out for extreme sports like bungee jumping. One of these companies is Luxergy, which offers bungee jumping experiences in the South Carolina cities of Columbia, Greenville and Charlotte. Interested adventurers can custom order bungee jumping experiences in the closest available city.
Carowinds Park
Carowinds is an adventure theme park located in Charlotte, North Carolina, just near the border between North and South Carolina. The park offers both roller coasters and thrill rides, including the Xtreme Skyflyer, which gives guests a bungee jumping/skydiving experience. Guests are lifted 153 feet into the air and then dropped into free fall before they can pull a ripcord that slows their descent.
References
Writer Bio
Lindsey Klingele is a Los Angeles-based freelance writer with more than five years of experience writing for consumer and trade publications such as "Meatingplace," "Plate" and "Celeb Life" magazines. She holds a degree in journalism from Central Michigan University and has covered topics ranging from the food industry to popular culture.
Photo Credits
salajean/iStock/Getty Images