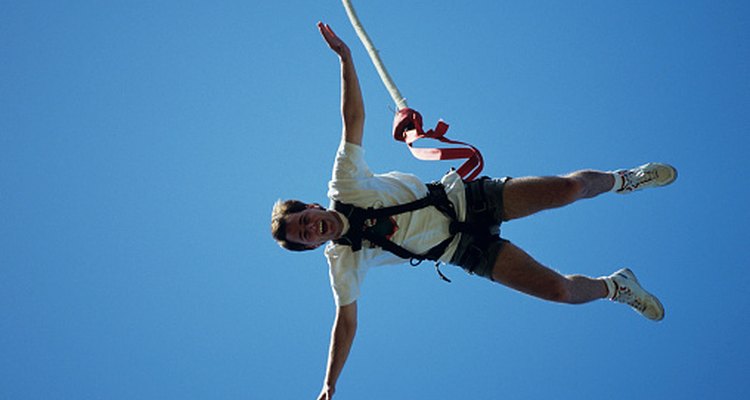 Karl Weatherly/Photodisc/Getty Images
Bungee jumping is an extreme sport popularized during the 1990s that involves putting on a harness and springing from a high location such as a bridge or platform. You are attached to your high spot by an elastic cord so that before you hit the ground the cord extends its full length and you end up bouncing mid-air. Thrill seekers in Illinois have a few options for bungee jumping, mostly during the summer.
Locations
You can try bungee jumping with licensed, professional extreme sporting outfits throughout Illinois. Choose between secluded locations such as bridges outside of Chicago, Aurora, Waukegan, Peoria or Naperville. If you are both a daredevil and an exhibitionist, you can jump at an amusement park in front of crowds of visitors.
Types
While all bungee jumping consists of strapping yourself to an elastic cord and jumping, there are a few different ways you can do this. Traditional bungee jumps involve you climbing to some high surface, a bridge for example, strapping a harness around your ankles and jumping head-first. At some places, you can wear a harness around your chest and jump feet-first. You can also do tandem jumps with a friend strapped to you. Some parks have Euro bungee structures where you can jump up and down several times on a bungee cord.
Carnivals
Bungee jumps are popular attractions at local carnivals and fairs. Keep abreast of what's going on in your community and check out any circuses, carnivals or traveling fairs that pass through your area. You might be able to bungee jump for less money than you would at an established business. Small traveling carnivals with bungee jumps are especially likely to visit rural areas.
Your Backyard
Though technically it's not a real bungee jump, Extreme Attractions (see Resources) will rent you a Euro Bungee for birthday parties or special occasions. The Euro Bungee allows four jumpers to attach themselves to harnesses and jump up and down, experiencing a free-fall effect. Jumpers can get up to 25 feet in the air. As of 2010, the Euro Bungee cost about $1,500 for four hours. Once you rent it, though, you can jump up and down on it all you like.
Considerations
Illinois gets very cold and snowy. Since bungee jumping is an outdoor pastime, in Illinois it's usually done during the late spring, summer and early autumn. If you are visiting Illinois on vacation, keep in mind that the time of year you choose will have an effect on the availability of bungee jumping.
Warning
Bungee jumping without a licensed professional assisting you is dangerous and illegal in the state of Illinois. Do not show up at a bridge with a harness and a bungee and bungee jump on your own. You could be arrested, or worse, killed. Note that bungee jumping is also not covered by most health insurance providers, so if you have an accident and get hurt you'll be paying your medical expenses out of pocket.
Bungee Jump Near Illinois
Extreme World (see Resources) in nearby Wisconsin Dells offers not only bungee jumping but a whole variety of extreme adventures including go cart racing and a climbing wall. If you want to spend an entire day trying all sorts of death-defying stunts, it's a three-hour drive from Chicago.
References
Writer Bio
Elizabeth Hannigan began writing freelance articles in 2005. Her work can be found in "Orientations" magazine. She holds a Master of Arts in art history from the University of Delaware.
Photo Credits
Karl Weatherly/Photodisc/Getty Images