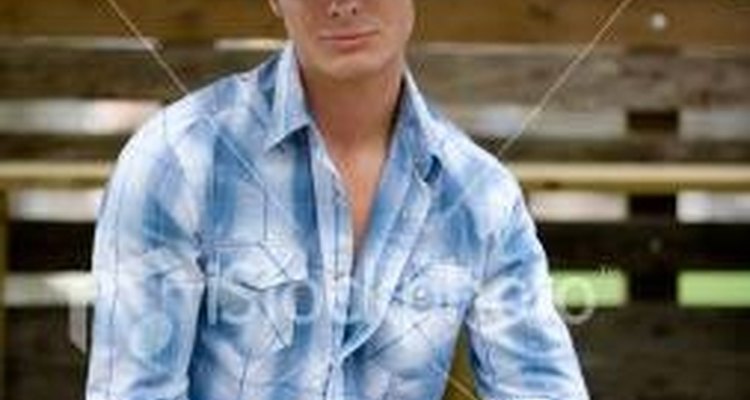 http://www.istockphoto.com/
Cowboy clothing or western wear has been around for many years. It was initially used to make a cowboy more comfortable and safe during his daily routine. Over the years, different styles and trends have been incorporated into the look. Western wear clothing is no longer only for the working cowboy. Cowboy shirts are becoming a hot fashion item and in certain parts of the country, men and women wear these shirts to formal events. One of the most popular items in a cowboy's wardrobe is a cowboy cut shirt. These shirts have distinctive qualities that set them apart from other shirts.
Material
Cowboy shirts are made with a sturdy blend of cotton and polyester. This makes cleaning these shirts a breeze. They are available in one overall color or a plaid print. Some cowboy shirts have printed pictures or designs on them.
Snaps
Cowboy shirts have snap fasteners instead of buttons. The clasps come in different colors and styles. They go up the front of the shirt and are also on the cuffs. These snaps give the shirt extra style and also make the shirt easy to open and close.
Cut
One thing that makes cowboy shirts different from other shirts is the way they fit. They are sewn to be form-fitting and snug the body. Whether you are wearing the shirt tucked in or left out, it appears to be tailor made. This gives a special quality to the shirt. All cowboy shirts are sewn with a yoke on the shoulders of the shirts and piping is commonly used to surround the yoke pattern.
Pockets
On either side of the chest area on a cowboy shirt, there is a pocket. They are usually large and have a snap closure in the middle. These pockets are there for design purposes, but can also be used to carry small items.
Designs
Although most cowboy shirts look the same, some have designs. Rhinestones, fringe and bandannas are sometimes used. Suede, leather turquoise and stones are sometimes added to a cowboy shirt to add to the western theme.
Writer Bio
Pam Pleasant has been writing professionally for three years. She attended Mott Community College in Flint, Mich., where she studied English. She has published more than 45 articles, and they are uniquely written by her, here at Demand Studios.
Photo Credits
http://www.istockphoto.com/