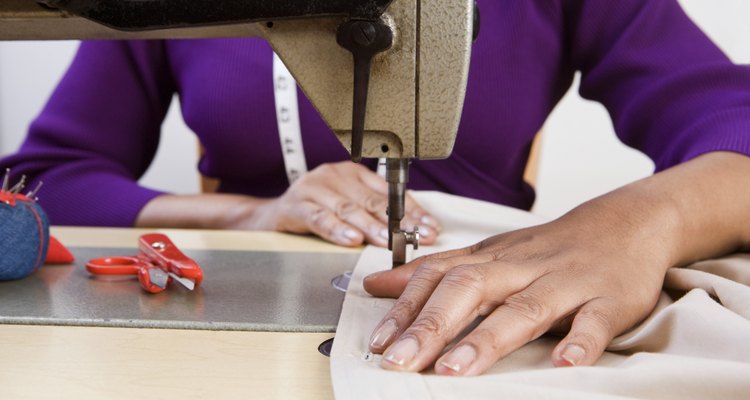 Jupiterimages/Creatas/Getty Images
A dashiki is a loosely fitting shirt made of printed fabric. The style originated in Africa and is associated with African culture. Some African dashikis feature embroidery around the neckline, while others are made of cotton printed with geometric designs. A dashiki is an easy project for the home sewer. The loose fit of the shirt makes it very comfortable in hot weather. Choose any cotton print fabric or traditional African kinte cloth.
Measurements
Accurate measurements will help to insure your dashiki fits well. Measure for the width of the chest, allowing extra room, since dashikis are designed to fit loosely. You can make the sleeves short, long or three-quarter length. The sleeves should be loose also, and usually have a bell shape. A shirt-length dashiki stops at the top of the hip, but you can make one past the hips for a tunic.
Pattern
Use a sheet of tissue paper, newspaper or brown paper to make your dashiki pattern. Tape several sheets together if you need to in order to get a large enough piece to draw your pattern. Plot your measurements on the paper, then use these to sketch the shape of the shirt. You only need to draw half the shirt, since you will fold your fabric in half and line up the edge of your pattern that represents the middle of your shirt with the fold. This insures two matching halves of the shirt. You'll need to draw in the curve for the neckline. You can use a T-shirt you like as a pattern to shape the neckline.
Assembly
Sew half-inch seams on your dashiki. Be sure to leave the neckline open. To make the dashiki easier to get over your head, cut a slit in the front of the neckline. Some people also like to leave slits open at each side of the dashiki at the hem. This allows you to shape the dashiki for a closer fit at the hips while still enabling you to put it on and take it off easily.
Embellishment
Bind the neck of your dashiki with bias-fold tape in a matching or contrasting color. Alternately, you could cut a fabric facing for the neckline.
Add bands of embroidery or sew on braided trim, ribbon or applique designs around the neck and at the sleeves and hem. You can even use washable fabric paint to decorate your dashiki.
References
Writer Bio
Cynthia Myers is the author of numerous novels and her nonfiction work has appeared in publications ranging from "Historic Traveler" to "Texas Highways" to "Medical Practice Management." She has a degree in economics from Sam Houston State University.
Photo Credits
Jupiterimages/Creatas/Getty Images